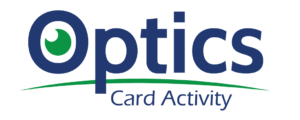 Introducing the latest addition to our suite of Optics tools, joining Phone Optics and It's Me 247 Optics in providing powerful data about your members' activity with their ATM, debit and credit cards. Beyond the transactions that hit member accounts, Optics let you see the activity that happens before and around the transaction, including what didn't hit the member's account at all.
Card Activity Optics will help your plastics specialists and data analysts act on insights from member card traffic. It is part of a suite of Optics data sets designed to collect and act on new types of non-transactional data.  Watch for more news on the Optics suite from the Asterisk Intelligence team.
Completed Projects
This is more than just a single project, and we expect this will launch many more projects and ideas down the road. Here's a list of what's cooking right now:
Expanding transaction tables to include new EFT-related data
Our intent here is to incorporate several new data elements into the TRANSx and HTRANSx database tables, both for analysis purposes and also to be used in various other projects as described below, such as analysis dashboards and cash-back/activity rebate programs. After this expansion, transaction records will now also record the following data elements, pulled from the incoming ISO data:
Merchant category code (MCC)
Card present indicator
Last 4 digits of card #
ISO sequence # (to tie the transaction back to the data in the new Card Activity Optics tables)
PINless PIN indicator
Smart ATM cash-only deposit indicator
Recurring debit card transaction indicator
This new data will be displayed on the additional transaction details screens accessed via Transaction Inquiry in CU*BASE.
Status: Project #53033, which expanded the TRANSx and HTRANSx tables, was implemented on 2/14/21. Project #53260, which populated data into these new fields from incoming EFT traffic, was implemented on 7/27/21.  Project #56506, which added EFT related data to transaction history, was implemented in the 21.12 release.  However, we later noticed some errant card #s being "ghosted" onto transactions other than debit/credit card transactions, and are currently working through adjustments and data cleanup.
Refining ISO data and moving it to where a CU analysts can use it
Have you ever wondered how many times members are denied for a debit card purchase each month? If members are using cards online more often than swiping them at a store? How many out-of-network  ATM fees your members are paying? This data, and much more, is included in the millions of back-and-forth records that comprise our daily EFT activity, but until, this data was not readily available to end users, especially aggregated to encompass all of a credit union's plastics traffic.
This project takes data from the mammoth, complex tables which we refer to as "the ISO files" and segregates it into new tables stored at the credit union level in the FILExx library. ISO files currently contain data for all EFT transactions for all online credit unions, and are stored in a central library not accessible to CU data analysts, in order for it to be accessible for EFT traffic coming in from the vendors.
With this project, a refined set of that data will copied from the master files at the end of each day and stored in each credit union's FILExx library, for use by data analysts (yours and ours!), as well as for day-to-day troubleshooting by support teams, such as the SettleMINT EFT team.
More importantly, we are refining and reorganizing the data to make the data easier for analysts to interpret and use, including adding definitions and descriptions to previously cryptic vendor codes and indicators. While the resulting data is still very complex (and still mammoth!), a new data dictionary will be available to help users make sense of everything.
Credit unions have access to a rolling 30 days of card activity ISO data and this data will be included in our suite of data warehouse offerings, brought to you by the Asterisk Intelligence Team. Learn more about data warehouse options in the AI store.
Status: Project #53312 was implemented in November 2020.  Card ISO data is live for all credit unions across the network.  
New Merchant Category Code (MCC) Groups Analysis Dashboard
This project creates a new MCC Groups Analysis Dashboard that will provide individual ATM/debit and credit card transaction information broken out by MCC Group.   Some of the existing features from the EFT Portfolio Analysis (Tool #594) and Credit Card Portfolio Analysis (Tool #593) dashboards will be incorporated.  The new dashboard will allow your analysts and card program managers to see what types of purchases members are making with your products.
Status: Project#55272 was implemented in the 22.05 release.
Projects In the Queue Now
Enhancements to card rebate/cash back programs
These projects will enhance both the Debit Card Activity Rebate program (Tool #1320) as well as the Credit Card Cash Back program (Tool #1550) to allow credit unions to define special rates based on the merchant category code (MCC) on the incoming transaction.  For example, you might want to give cash-back rewards of 2% on gas purchases, and 1% on everything else. Using the configuration in project #52070 (described above), you'll be able to create a separate MCC Group that contains the gas MCC code(s) you desire, then set a separate rate for that group, with another rate (or even 0%) for all other transactions.
 Status as of September 2023: Project#55258 (debit card rebate programs) is in QC testing and is slated for the 23.10 release.  Project#55259 (credit card cash back programs) was implemented in the 23.05 release.
A related project also sets the framework for credit unions to define local retailers/companies so that they can reward members for using these specific retailers.  This is similar to the concept of merchant category code (MCC) groups that credit unions can configure as of the 21.10 release.  As with CU-defined MCC groups, these local retailer groups will be able to be applied to credit card cash back and debit card reward programs.
 Status as of September 2023: Project#57851 is in QC testing.
Enhancements to credit card promotional rates
This project will allow credit unions to define special promotional rates for their online credit card products that are based on the merchant category code (MCC) on the incoming transaction. For example, you might want to offer a 3-month special on all hotel purchases on your Visa Platinum card. Using the configuration in project #52070 (described above), you'll be able to assign one of your MCC Groups when setting up your promo rate bucket on your credit card loan category.
Status as of September 2023: Project#55260 will be implemented in the 23.10 release.   
New "Teaser" Card Optics Dashboard
The Asterisk Intelligence Team is working to develop a "Teaser" Card Optics Dashboard for all CU*BASE credit unions, as well as a "Premium" Dashboard for the AI*Engaged application, a new software copyright for data warehousing and other advanced tools and features to support credit union analytics.
 Status:  Project#55599 for the "teaser" dashboard was implemented in the 22.05 release and Project#55602 for the "premium" dashboard is in QC testing.  
Showing card # hints to members in online/mobile banking and statement history
In addition to the adding new data elements to TRANSx/HTRANSx and displaying them in CU*BASE transaction inquiry (as described above), this project will display the last four digits of the card # in the transaction history that is viewed by members on statements and in online/mobile banking. We plan to simply display the contents of the new last 4 card # field, which is being added to the transaction record, in addition to the existing multi-line trans description.  For eStatements only, we will also display the credit union defined MCC Group associated with the transaction.
Status: Project#56539 (statements) was implemented for April 2022 statements produced on May 1.   Project #56601 (online banking trans history) was implemented in January 2023. 
Chefs for this recipe:  Heather French, Dawn Moore, and Karen Sorensen