Let CU*Answers Management Services Show You How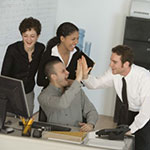 Everyone has that list of must-do projects that sit on the shelf and never seem to make it to final execution. It's not that you don't want to launch that new service for your members. It's just that there never seems to be enough time to take care of dotting all the i's and crossing all the t's to get the thing off the ground. You just need someone who can drive the project from start to finish with a single focus.
CU*Answers Management Services can be that someone for your credit union.
Micro-project management services from CMS…get your next initiative off the ground!
We have experts with years of experience managing projects with tight deadlines. We'll grab our checklist, talk to your decision makers, then get to work doing all of the tasks and grunt-work until the product or service is activated and in your members' hands. We'll even do the work to get your Board, your management team, and your staff on board and ready to take over once the switch has been flipped.
We do the launch…you serve your members

How is this different from other CMS "we'll do the work" initiatives like AuditLink or Lender*VP Collections? The difference here is in the duration of the contact: a Just Turn It On expert will complete the list of tasks, flip the switch on launch date, then we're out of your hair, right on schedule.
How it works
In this brochure you'll see the first group of offerings in our Just Turn It On arsenal. These are products and services that we believe every credit union has on their "do this someday" list, and we want to turn someday into today. Pick one and put us to work to Just Turn It On. And when we say we'll Just Turn It On, we really mean we will do it. We'll sign in to CU*BASE and key in your configurations, we'll type in the procedural text or sales content, we'll write the language for your disclosures…whatever it takes. Your teams will need to answer a few questions along the way, of course, but relax and leave the work to us.
Sample Checklist
Here are the general tasks we'll do for you, from a typical Just Turn It On checklist: Name the product you've been waiting to launch.
We'll sell the concept…

…to your board

…to your management team

…to your staff

So they'll say "go!"

Then we'll GO for you.

Just Turn It On!
Prepare a benefits summary and project outline with timeline for Board approval
Consult on a marketing/rollout plan
Train on an internal procedures with steps to monitor, reconcile, and manage the product going forward
Make adjustments to your chart of accounts, if needed (e.g., to support new fees)
Modify configurations in CU*BASE and adjust Tiered Services program settings, if appropriate
Produce and coordinate advanced member notices
Flip the switch to go LIVE!
What's in it for CMS?

These contacts are not intended as big money-making endeavors for the CUSO. Although there will be a small charge for these services, the ultimate goal for CU*Answers is that our clients use CU*BASE to its full potential. We want credit union members to be using these products and services. We want your teams to be able to concentrate on what they do best—serving your members. And we want every client to be a good reference for the tools in which the owners and participants in this CUSO have invested. So what are you waiting for? Don't let unanswered questions and a busy calendar let you procrastinate any longer. Just Turn It On…today!
Getting Started
What's stopping you from launching that next new product or service for your members?  Let us Just Turn It On for you.
Ready to get your next initiative off the ground? Contact Julie Gessner via her email or 800-327-3478, ext. 131 and we'll get to work for you!
Things to Consider
We'll do most of our correspondence with you via email or phone calls. Since we can work in your CU*BASE files remotely, no one needs to worry about time zones or travel arrangements.
See what Just Turn It On has to offer!
Just Turn It On products are now available to order in the store.