If you want a mobile app for smartphones, CU*Answers offers a FREE hybrid mobile app. If your credit union prefers to partner with a third-party to deliver an app to your members, you can offer online banking functionality by wrapping our It's Me 247 mobile web product into your app.
In addition to a robust set of native app features such as remote deposit capture (RDC), our mobile app uses the It's Me 247 Online Banking mobile first design for access to online banking functions. Any updates made to the It's Me 247 product are automatically available to your members.
FREE "It's Me 247″ Hybrid Mobile App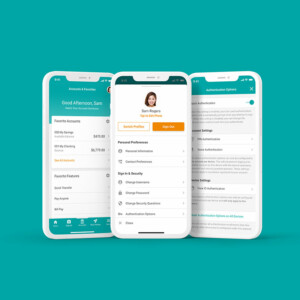 Credit unions can work with IRSC on their FREE It's Me 247 Mobile App, which can be made available from both the Apple and Google app stores.
Using CU*Answers' state-of-the-art, comprehensive content management system, CU*Publisher, credit unions can add graphical ads, links to sites and services, assist questions and answers, branch locations, and access to It's Me 247 Mobile Web Banking via the app.