CU*Answers has offered premier Check Processing services to credit unions since the early 1980's via its CU*Check application. Today, CU*Answers provides Electronic Check Processing services to over 80 credit unions, processing 1 million checks monthly.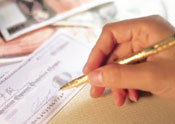 CU*Answers has an on-going commitment to invest in technology, in May 2015 upgraded to CheckLogic Manager, eDOC Innovations Check Image Processing software.
The success of CU*Check comes from the quality service provided through the Item Processing Support team. This dedicated group is trained to provide personalized and responsive client service. They are available to assist with any issue that may arise, including difficult reconciliation and balancing issues.
What are the benefits of partnering with CU*Answers for Check Processing?
Elimination of 3rd party vendor fees for accessing check images, and creation of CD-ROMs
Full integration with CU*BASE ensures all daily transmissions are received and posted to member accounts
Electronic Returns and adjustments are prepared and transmitted to the FRB daily.
Duplicate item detection against checks processed during previous 60 days, minimizing frustrating duplication errors.
Access to FRB Returns (Chargebacks) via the IP Vault for making 'Redeposit' or 'Collect' decisions on 'outside' return items
Access to member images and daily CU reports via the IP Vault.
Item Processing staff available from 9am–10pm (Eastern) to assist Clients located in all time zones.
For non-CU*BASE clients, the interface to your present data processing provider will be fully tested and certified – making the conversion process to CU*Answers Item Processing a simple process
No additional fees for 'late' return items; a return is a return, is a return.
No charge for copy requests – All check images and research are provided at no additional cost.
No FRB Check Processing fees – FRB Check Processing fees are charged directly to CU*Answers, not our Credit Union Clients.
No set-up fees for ItsMe 24/7 Home Banking Check Images!
For questions about CU*Answers Check Item Processing,
contact: Karen Chesbro
VP Item Processing
800.327.3478 or 616-285-5711  x127
kchesbro@cuanswers.com