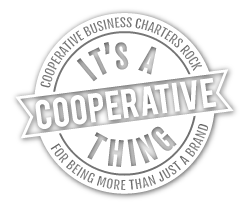 Each year these awards serve as reminders of the accomplishments achieved by our CUSO. They note our respect for the efforts of teams and individuals and develop a narrative around those who lead the way by highlighting their contributions. These annual awards acknowledge the accomplishments that stand out amongst a network of accomplishments; those who went beyond expectations. And we judge the cumulative effect of careers and partnership over those careers.
Each year, after research and review, the Management Team submits informal nominations to the CEO for the selection process. Awards winners are announced at the Leadership Conference held in June.
The "Spirit of CU*Answers" Award Est. 2011
The annual "Spirit of CU*Answers" awards lets CU*Answers recognize an online or self processing clients for excellence: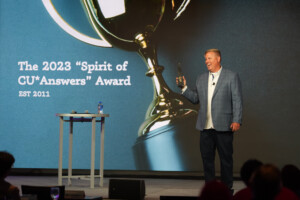 The CU that best exemplifies our Leadership Conference theme for the year, or
A CU with an especially strong and vital volunteer program, or
A CU that demonstrates the principle of being "all about the member," or
A CU with an innovative example of collaboration and cooperation (the highest Collaborative Score), or
A CU that has started a business in the network, or
A CU that shows strong execution and performance, especially in the face of adversity or despite overcoming a significant challenge, or
A newly-converted CU that really hit the ground running with adoption of CU*BASE tools (or an existing CU that has really plunged into the tools in a new way), or
A CU that started a new initiative that really demonstrates the credit union spirit, or that moves the industry in a positive direction, or that is inspirational to other CUs in some way
Award History
Year
2023

The Spirit of CU*Answers: Collaborator
Jennifer Watson
CEO, Limestone FCU
Manistique, Michigan

The Spirit of CU*Answers: Ambassador
Jon Hernandez
CEO of 3 Los Angeles-area Credit Unions
CalCom FCU, Nikkei CU, Mattel FCU
Year
Robert H. Mackay Leadership Award
Spirit of CU*Answers Award
2022
Randy Karnes
CU*Answers
(Grand Rapids, MI)
Vizo Financial
(Middletown, PA)
Charnell Etzweiler
2021
Bill Nikolauk
1st Community Federal Credit Union
(San Angelo, Texas)
Spokane Media Federal Credit Union
(Spokane, Washington)
CEO, Debie Keesee
2020
Drake Tanabe
Hawaii Central FCU
(Hawaii)
Our 2020 honorees: All of the CUs that volunteered their leaders to continue to drive our CUSOs and maintain the focus of our community!
2019
Greg Hilbert
Fox Communities CU
(Appleton, Wisconsin)
TruChoice FCU
CEO Ken Acker
(Maine)
2018
Glen Kretchmer
ATL FCU
(Wyoming, Michigan)Don Mills
Alpena Alcona Area CU
(Alpena, Michigan)
Jim Blaine
Formerly State Employees' Credit Union
(North Carolina)
2017
Dennis D. Degenhardt
Glacier Hills CU
(West Bend, Wisconsin)
Honor CU
CEO Scott McFarland
(Michigan)
2016
Greg Smith
CU*NorthWest
(Liberty Lake, Washington)
rkGoBig
Facilitator Peter Barnard
(Middletown, Pennsylvania)
2015
Chris Butler
Community CU
(LaCrosse, Wisconsin)
Element FCU
CEO Linda Bodie
(Charleston, West Virginia)
2014
Vickie Schmitzer
Frankenmuth CU
(Frankenmuth, Michigan)
Pathways Financial CU
CEO Mike Shafer, for an innovative example of collaboration and cooperation
(Columbus, Ohio)
2013
Patrick Basler
First Financial CU
(Skokie, Illinois)
Services Center FCU
CEO David Wright, for the Site-Four initiative
(Yankton, South Dakota)
2012
Chip Filson
Callahan & Associates
(Washington, D.C.)
Jim Schrimpf, CEO
Brewery Credit Union
(Milwaukee, Wisconsin)
2011
Thomas L. Furrey
Western CU
(Columbus, OH)
VacationLand FCU
Kevin Ralofsky, CEO
(Sandusky, OH)
Year
Robert Mackay
Award
Callahan Collaboration
Award
Callahan Performance
Award
Callahan Member
Focus Award
2010
Thomas Miller
Sioux Empire FCU
Muskegon Co-op FCU
n/a
2009
David Ohman
Frankenmuth CU & Alpena Alcona Area CU
First Trust CU
Michigan Coastal CU
2008
Joni Shin
Northern Hills FCU
Alpena Alcona Area CU
Prospera CU
2007
David Wright
Affinity Group CU
Services Center CU
Wauwatosa CU
2006
Rod Larr
Kent County CU
Progressive CU
Frankenmuth CU
2005
Robert Mackay
n/a
n/a
n/a
No tool, network, or collaboration is successful without those who pick up the concepts and move the ball towards success. Execution by leaders is what makes ideas come to life. CU*Answers saw the need to highlight the individuals and credit unions that exhibit that spirit. Robert Mackay pioneered this execution through not only being a driving force for this CUSOs expansion through including multiple credit union ownership, but also as constant on the board of directors as its chairman for 19 years. He led the way in building two organizations (Honor CU and CU*Answers) based on the merits of cooperation and the ideas this CUSO stands upon.
The Callahan Awards
The Callahan awards – named for Ed Callahan, credit union pioneer and champion- represent credit unions who have during the year of their award showed all of us how to step up to ideals that Ed championed throughout his career. Ed Callahan knew and valued partnership, collaboration to win for members, and strength through the aggregation of credit union resources and hopes for the future. In that spirit we award three Callahan awards; one for Performance, one for Collaboration, and one for Member Focus, every year.
A Tribute to Robert H. Mackay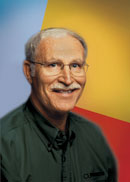 Bob Mackay served as a member of the CU*Answers Board of Directors from 1985 to 2007 and as Chairman for 19 of those years. Bob was there when the very first client came on board, and over the years his vision for the future helped to push CU*Answers toward the 500+ credit union relationships it now supports nationwide.
His leadership and inspiration served not only as a guide but as the compass for CU*Answers to grow and prosper into a CUSO that is now known in the industry for its core values of cooperation, collaboration and innovation.
The challenge of leadership is to be strong, but not rude; be kind, but not weak; be bold, but not bully; be thoughtful, but not lazy; be humble, but not timid; be proud, but not arrogant; have humor, but without folly.
CU*Answers and the million members it serves are forever indebted to Bob for his dedication, his wisdom, his gentleness, and his strength.
Words to live by, shared by Bob Mackay.
Taken from a quote by Jim Rohn.