CU*Answers is a CUSO and a Cooperative, and we've been living the cooperative spirit for years. Credit unions are cooperatives. CU*Answers is a cooperative. This is a driving business model for our industry. Cooperatives are built by their members; members who fund and direct their credit unions through elections of leaders, allowing individual interests to align with community needs.
How CU*Answers Walks the Talk
CU*Answers walks the talk. CU*Answers is a cooperative and believes in the cooperative business model. The following sites are just some examples of our collaborative products and thinking: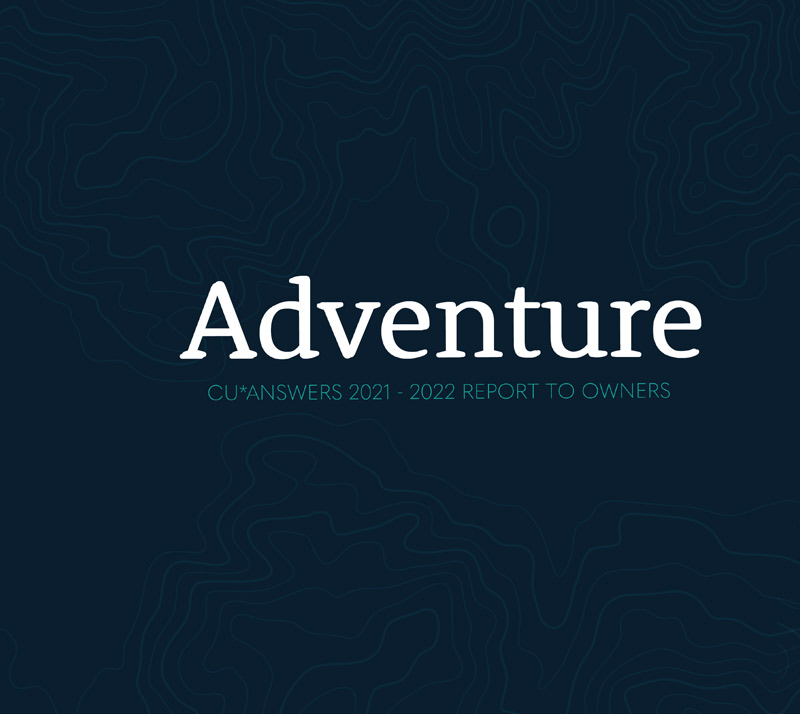 The CU*Answers Report to Owners is published biannually as both a financial report and a recommitment to the principles that drive our CUSO. The CU*Answers Board of Directors is committed to providing full disclosure at all times. We encourage you to learn all that you need to know in order to become a fully vested partner.
cuatv.com
A collaboration between CU*Answers and FulVew productions. These spots are available to be custom tailored for your CU by adding your logo, web address, and even professional voice over.
AuditLink
Credit unions are subject to a bewildering number of policies and regulations. In order to assist credit unions with managing their obligations, CU*Answers AuditLink has created several tools to help simplify the compliance process and hopefully reduce the compliance cost burden for each institution.
Asking The Right Questions and the Financial Literacy Series for Board Directors


CU*Answers believes financial literacy is more than just book learning. It comes from the interactions Board members have with each other and with credit union teams. It comes with the confidence you gain from experience, education, and perseverance as a volunteer. That's why CU*Answers created these 2 industry tools to assist in the Board Room.

Cybersecurity Resources
Cybersecurity and resilience are serious economic concerns rapidly spreading throughout the credit union industry as the risk of data breach and fraud continues to expand.  As an engaged and committed CUSO, CU*Answers has the professional resources available to learn about cybersecurity requirements and help credit unions design and build the infrastructure needed to continually monitor and enhance the security of their systems and to protect member information.

We are Coop Strong!
At CU*Answers, we are proud to be a cooperative.


Live It! The 7 Cooperative Principles
We developed the Live It! series as a way for credit unions to differentiate themselves from other financial institutions. This series promotes the 7 Cooperative principles that expound on the value of membership and rewards and liberties of ownership. Credit unions have long been looking for a convincing message to shout from the rooftops. What better way than to employ the very principles that are at the foundation of credit unions and other cooperative businesses.







The Live It! Series is composed of 8 campaigns; one campaign for each of the 7 principles, and one overview campaign. Please take a look at the campaign materials by visiting our website for a closer look. It is a simple, cost-effective, and professionally designed package to bring this important message to your member owners.