Have Comments about the 5300 Call Report?

We'd love to hear your feedback, use the Comments Section below
The NCUA implemented major changes to the 5300 Call Report with the March 2022 Call Report.  The overall theme of the re-vamp was modernization and simplifying in order to reduce the reporting burden for credit unions.  Although credit unions (and CU*Answers/Xtend) are still adjusting, the reorganization and restructuring of the data does seem to make sense.   Please provide feedback below if you do not agree!
Since the NCUA can be a moving target, we have a dedicated resource on staff who keeps our CU*BASE software up-to-date and continually analyzes how we can help credit unions gather 5300 Call Report data.  For detailed information on CU*BASE 5300 Call Report tools, refer to the booklet. 
Refer to the NCUA's dedicated webpage for details of the current Call Report, Profile and Instructions.
Highlight of March 2022 Changes
With the NCUA changes, the majority of the Call Report sections are still intact but require less data. Account codes were added/deleted/replaced and some areas were re-organized for better alignment of related information.
Here is a highlight of the changes:
Time deposits now included with cash assets (pg. 1)
Investments sections revamped and moved to Schedule B (pgs. 13-16)
Revised categories of Foreclosed and Repossessed Assets (pg. 2)
Shares/Deposits information moved to Schedule D (pg. 19) and dividend rates no longer required
NCUA Insured Savings Computation section simplified and moved to pg. 19
Delinquent loan range of 60-179 days separated out to 60-89 days and 90-179 days (pg. 7)
No longer required to report # of delinquent loans by day range, only report total # of delinquent loans 60+ days
Additional Delinquency Information page removed
Loan Charge Offs and Recoveries page streamlined with new commercial loan categories added (pg. 8)
Miscellaneous Information page removed with some account codes moved to Schedule E
Troubled Debt Restructured Loans section removed – only need to report total # and amount of TDRs on pg. 8
New categories of Indirect Loans and Participation Loans (pg. 10)
Lending related data collected in Schedule A simplified but many account codes replaced (pg. 11)
Contingent Liabilities and Off Balance Sheet Exposures sections revamped and moved to Schedule C (pgs. 17-18)
Complex Credit Union Leverage Ratio Schedule H added (pg. 23)
Risk Based Capital Schedule I added (pgs. 24-28)
Impact to CU*BASE Tools
With the NCUA March 2022 changes, the number of the account codes on the Call Report was reduced by approximately 20%.  The main task for CU*Answers was to update our template of account codes to match the NCUA. Our dedicated Call Report resource completed these updates and continues to monitor each quarter for future updates.
In addition, we performed a comprehensive review of CU*BASE reports/dashboards used to gather Call Report information.  PS#58205 is in process to break out the 60-89 and 90-179 day ranges on the Loan Delinquency Analysis report (accessed via Tool #461 or Tool #788).  In addition, specifications have been submitted for PS#59016 to update Tool #229 "Collections Dashboard/Summary" with the NCUA's updated delinquency day ranges.  As always, we welcome any suggestions for CU*BASE report/dashboard enhancements that will make it easier for you to obtain Call Report data!
Documentation and online help for the 5300 Call Report has been updated including the 5300 Call Report and CU*BASE Tools booklet.   The account code level help with descriptions of each account code and tips for obtaining Call Report data from CU*BASE has also been updated.
One of the NCUA edits (i.e., assets=liabilities) currently in the CU*BASE tool is still valid.  Edit messages display when creating the import file for upload to the NCUA from Tool #362 "Enter 5300 Call Report Data".  PS#59088 has been submitted to add new edit messages containing the NCUA's revised account codes (most of the edits that existed prior to March 2022 were no longer valid and have been removed).
Many of the account codes used for the calculations on the 5300 Call Report Ratios Dashboard are still valid, however based on the NCUA's updated Financial Performance Report (FPR) posted in July 2022, PS#58341 has been submitted to update the calculations for 8 ratios to match the NCUA calculations.
Keep in mind that the NCUA Schedule H (CCULR) and Schedule I (RBC) are not included in the CU*BASE tool at this time.
For detailed information on CU*BASE 5300 Call Report tools, refer to the booklet.     
Project statuses as of 9/14/22:
1) PS#58205 Update Loan Delinquency Analysis Report to break out 60-179 days range: In process 
2) PS#58341 5300 Call Report ratio calculation updates: Specifications submitted
3) PS#58752 Update format of loan rates in the import file: Project submitted and waiting for programming resources  
4) PS#59016 Update Collections Summary Dashboard (Tool #229) to match NCUA revised delinquency terms: Specifications submitted
4) PS#59088 Add 5300 Edits/Warning Messages to Call Report Tool: Specifications submitted
For detailed information on CU*BASE 5300 Call Report tools, refer to the booklet.           
March 20th 2019 Webinar
This webinar highlights the original changes proposed by the NCUA back in 2018.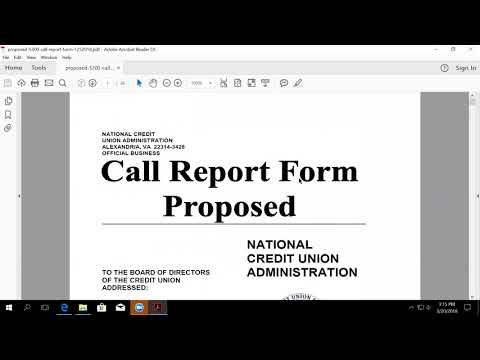 We are always looking for ideas on how to improve the 5300 software. Contact callreport@cuanswers.com with any suggestions!
Need help completing your 5300 Call Report? Contact SRS Bookkeeping Services at 616-285-5711 ext. 277.
The chef for this recipe is Karen Sorensen.
Feedback
Have thoughts or ideas about the 5300 Call Report? We'd love to hear your feedback. Use the Comment Section below.