Have Comments about these changes?

We'd love to hear your feedback, use the Comments Section below
Back in 2018, the NCUA proposed major changes to the 5300 Call Report with the effective date yet to be determined (original NCUA target was March 2019). We previously reviewed the changes and analyzed the impact to CU*BASE tools. The overall theme of the re-vamp is modernization and simplifying in order to reduce the reporting burden for credit unions.
Refer to the NCUA's dedicated webpage for details and prototypes of the new Call Report, Profile and Instructions.
Highlight of Proposed 5300 Changes
With the proposed changes, the majority of the Call Report sections are still intact but require less data. Account codes are removed from many sections and some areas are re-organized for better alignment of related information.
The NCUA implemented a handful of the changes mentioned below for the Q1 2019 Call Report.  CECL sections were added and both the PCIL and Derivative Transactions sections were streamlined.  No news on when the other proposed changes may take effect.
Here is a highlight of the proposed changes:
New page numbering schema
CECL sections added (to address early adoption programs) – Implemented 3/2019
Time deposits now included with cash assets
Investments sections re-vamped
Interest rate information for shares/loans no longer required
Delinquent loan range of 60-179 days separated out to 60-89 days and 90-179 days
Delinquent loan/charge off reporting streamlined
Miscellaneous Information page removed
Lending related data collected in old Schedule A (was pgs. 14-17) is simplified
Derivatives Transactions section reduced to ½ a page rather than 5 pages – Implemented 3/2019
Risk Based Capital Schedule added (to be completed by CUs with assets over 100k)
NCUA Instructions improved
March 20th 2019 Webinar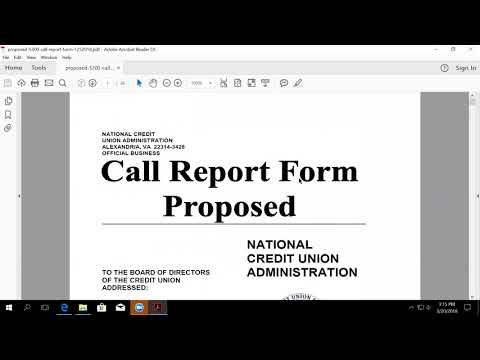 NCUA Request for Information (RFI)
Credit unions had the opportunity to comment on the proposed changes prior to April 2, 2018. The NCUA asked credit unions to consider the following questions:
Are there account codes that are proposed to be retired that are still pertinent? If so, please provide the account code(s) and the reason for maintaining it.
Are there additional account codes that should be retired or consolidated? If so, please provide the account code(s) and the reason for retiring it.
Are relocated account codes grouped logically? If not, please propose a location you feel is more logically suited.
Should any of the schedules be expanded to assist in analysis based on new rules or accounting changes? If so, please provide details of data the NCUA should also collect.
Are the instructions adequate in both content and design? If not, please cite specific sections that require improvement or correction.
How much lead time do credit unions need to work with vendors to make changes to their systems in order to support such changes to the Call Report?
Are there any other operational issues the NCUA should be aware of prior to implementing the proposed changes?
From your perspective, do you think this is a reduction in your reporting burden? Please explain.
The NCUA will post these comment to their website soon (stay tuned).
Impact to CU*BASE Tools
With the NCUA's proposed changes, the number of the account codes on the Call Report is reduced by approximately 40%. Therefore, the main task for CU*Answers will be to update our template of account codes to match the NCUA. Our dedicated Call Report resource will get going on these changes as soon as possible and will test with the NCUA prior to implementation.
In addition, we will perform a comprehensive review of CU*BASE reports/dashboards used to gather Call Report information.  We don't anticipate many report updates to be necessary.  As always, we welcome any suggestions for CU*BASE report/dashboard enhancements that will make it easier for you to obtain Call Report data!
Documentation and online help for the 5300 Call Report will be updated as appropriate. The crux of the work will be updating the account code level help and providing any new tips for obtaining Call Report data from CU*BASE.
Two NCUA edits (i.e., assets=liabilities and comparison of held-to-maturity investments) currently in the CU*BASE tool will remain. We will keep an eye on any changed/new edits that the NCUA implements and adjust our edits as appropriate (the NCUA doesn't usually post their updated edits until that Call Report period).
It looks like most of the account codes used for the calculations on the 5300 Call Report Ratios Dashboard will still be valid, however we will make any necessary changes to stay in synch with the calculations used by the NCUA for FPR ratios.
Note: The impact to our CU*BASE tools described above is based on initial analysis and could change as we dig deeper. As we all know, the NCUA can be a moving target, so keep an eye on this kitchen page for the latest!
For detailed information on CU*BASE 5300 Call Report tools, refer to the booklet.           
We are always looking for ideas on how to improve the 5300 software. Contact callreport@cuanswers.com with any suggestions!
Need help completing your 5300 Call Report? Contact SRS Bookkeeping Services at 616-285-5711 ext. 277.
The chef for this recipe is Karen Sorensen.
Feedback
Have thoughts or ideas about these changes? We'd love to hear your feedback. Use the Comment Section below.