This project builds an interface between CU*BASE and MemberPass® (powered by Bonifii). It's intended to be a simple way to authenticate a member both in-branch and via the call center, using a message sent to the member's mobile phone.
What MSRs will see in CU*BASE
When a member calls or visits the CU, the MSR will click a new "Authenticate Me" button from any of the PITT (Phone, Inquiry, Teller, Transfer) screens in CU*BASE, or from the Xpress Teller ID Verification screen or the Secondary Names inquiry.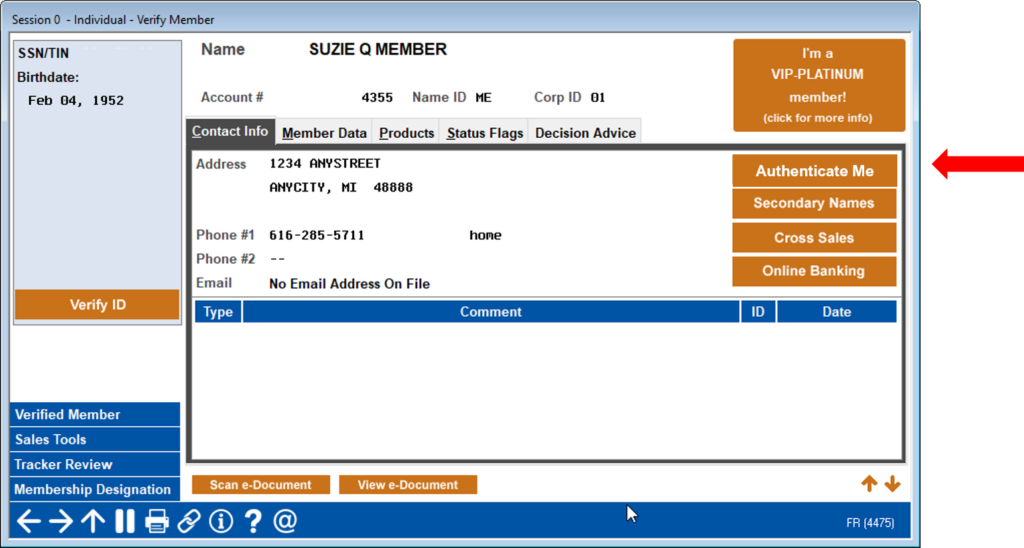 This link will launch a browser window, sending information about the credit union, the member account, and the person being served to a new website. Assuming your CU's been activated for the MemberPass service, that website will check to see if the member has already enrolled for MemberPass. If not, enrollment options will be displayed. If the member is already enrolled, the site will activate the authentication process, which sends a message to the member's phone.
The member acknowledges by clicking and the MSR receives a message stating the member has been authenticated.
Features
The first time a member uses MemberPass they will need to enroll, which logs a device by entering a phone number and attaching it to their account within MemberPass. This means the MSR will need to verify the member's identity carefully through other means.
Additional devices can be enrolled for the same account, such as for joint owners, or if the member has more than one mobile phone number.
Status as of August 18, 2023:  Overall scope has been defined and preliminary specs have been written. Our target is to complete the integration and implement the screen changes with the 23.12 release.  Rollout will involve activating CUs after those changes go in. Watch for more news on how you can sign up, pricing, and other details, coming in November!
Chefs for this recipe: Dawn Moore, Brian Maurer