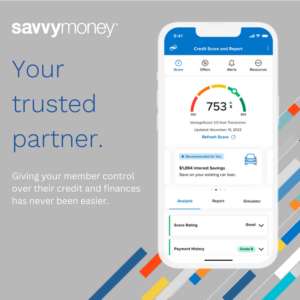 SavvyMoney offers robust credit score solutions that empower you with digital personalization and real-time analytics, which can help you to strengthen and deepen your relationships with customers.
If you're interested in learning more, we invite you to join us for one of our three upcoming webinars!  Use the button below to visit the registration page and select your preferred date and time.
As a special promotion, if you sign up with SavvyMoney by March 31st, 2023, they will provide a 50% discount on their installation fee as well as discounted monthly minimums.
Friday, February 10th
3:00 PM – 4:00 PM ET
Thursday, February 23rd
3:00 PM – 4:00 PM ET
Thursday, March 30th
3:00 PM – 4:00 PM ET