Ditch the Spreadsheet!  Keep ACH-Paid Payments with Your Vendor History in CU*BASE!
Did you know that you can track payments you make to CU*Answers or other companies by adding them to your Accounts Payable vendor history?  By following some easy steps below, your Account Payable vendors (companies) are automatically updated each time an ACH transaction is received.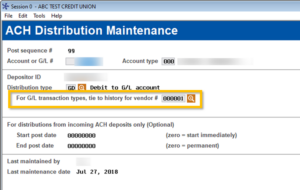 Use the handy steps to keep all your records in once place – no separate spreadsheets are required!