Business Continuity Planning
More on Business Continuity Planning:
Business Continuity Management (BCM) is the continuous process of identifying risks, measuring their impact on critical business functions in the organization, developing strategies and procedures for mitigating those risks, and restoring functions as quickly as possible in the event a disruption. At CU*Answers, we use BCM principles and procedures to help weave resilience into the fabric of the organization.
Resilience refers to "the operational and technological readiness that prepares an organization to make day-to-day operations efficient and cost effective, and to resist, absorb, and recover from or successfully adapt to adversity or a change in conditions."
A key component of our BCM program is the Business Continuity Plan (BCP), which becomes the roadmap for continuing operations under adverse conditions (i.e. interruptions from natural or man-made hazards).
The goals of the BCP are to:
Protect people and property (assets)
Minimize the financial losses to the organization
Serve customers with minimal disruptions
Mitigate negative effects of disruptions on business operations
Investments over the past ten years to enhance network and system availability have positioned CU*Answers well to provide the superior and reliable services and solutions our clients have come to expect.
Network Availability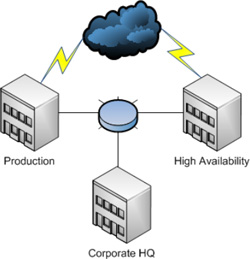 The CU*Answers core network is comprised of three state-of-the-art data centers at the following locations:
Primary Production Facility (Kentwood, MI)

24x7 operations and support

Corporate HQ Facility (Grand Rapids, MI)

Primary corporate facility with multiple meeting and training rooms, call center, and administration

High Availability (HA) Facility (Muskegon, MI)

Geographically-diverse, fully-equipped facility that is live and ready should a disruption occur; complete with staffing and recovery workspace
In 2005, CU*Answers took a big step in ensuring network availability with the design, construction, and opening of our second data center. This allowed us to place redundant systems in separate locations, providing the opportunity to sharpen our skills for production rollovers and remote system monitoring.
Building on what we learned through this process, we celebrated the opening of our third data center in 2010, designed from the ground up for network and systems high availability and business resumption. Having three strategically designed data centers gives us the options required to sustain the day-to-day risks we face that threaten the stability and reliability of the network. Read more about our High Availability Recovery Plan.
All three data centers are fully equipped and staffed, and are designed with fault-tolerant ingredients including:
Alternate power sources (utility, UPS, LP generators)
Independent environmental controls (CRAC, FM-200)
Physical access security zones with video surveillance and centralized network/system monitoring
Redundant TSPs (ISP, MPLS, WAN/MAN)
Meshed networks with multiple paths
Server pools with load balancing
SAS 70 II certified
In the rare scenario where three data centers will not adequately protect our business objectives, we have a contractual agreement with IBM Business Continuity Recovery Services (BCRS) that provides a fully-equipped and configured hot site at one of several locations nationwide. Read more about our Hot Site Recovery Plan.
A Hot Site is "a designated stand-by recovery site equipped, ready, and available for the organization to immediately transfer to in order to continue essential operations and processes."
For additional information, read about our recent SAS 70 reports and compliance related documentation.
System Availability
At CU*Answers, the same focus used to enhance network availability is the driving force behind our reach for maximum system availability. In our HA data center, we've placed an independent network infrastructure with redundant (identical) core-processing systems running our critical business applications. This gives us the freedom to perform system maintenance and upgrades without requiring system downtime.
While we strive for 24x7 "always on" uptime, there are a few occasions where planned downtime is needed during off-peak hours. For more information, check out our System Availability page.
More on Business Continuity Planning:
Please wait...