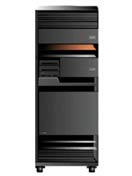 Welcome to CU*Answers section on our website dedicated to our Self-Processors. We created these pages to bring all of the information together that we think would be good for a self-processing Credit Unions to know. As you take the time to look through each page you may recognize that some of the general information is to be found on other pages. You will also find information that will help you manage your technology and operations center. These pages will help you with some best practices to maintain your network, PC's and operating systems. Also, if you look under the Managing your operations link you can find suggestions on running your Operations center.
We like to think of our Operations Center as the heart of CU*Answers. You, just like us, will have your own Operations Center and will be responsible for running your daily, monthly, and yearly run tasks. Check out our links to learn more to help your Credit Union reach its potential.
Production
Use the OpsEngine to help power your data center. Leverage our expertise and know-how to help your business thrive: let the OpsEngine production center team assist you in your daily operations. OpsEngine can help run your back-office data center processing, assist with ACH, and more. We're here 24/7 so you don't have to be, and we have the knowledge and tools to run your operations effectively, consistently, and securely.
Tools
Leading edge products to augment and enhance your data center operations – to get work done, maintain and secure your system, the OpsEngine has what you need to help your production center run effectively and securely, a must in today's complex processing environment.
Services
Call on OpsEngine to provide support, training, education and planning opportunities for your data center. From system and automation support to hands-on, how-to training, the OpsEngine team has the experience and expertise based on years of production and a large and varied scope of operations that you can leverage to move your business plans forward.
2014 Self Processor Summit
Every two years, we take the opportunity to sit down as an assembly of data center operators and talk shop about upcoming directions and plans, issues that concern the production side of the business, and share ideas and get input from the people that are involved in operations across the CU*Asterisk network community. This year's summit was a great success and work is already underway based on some of the insights and suggestions shared at the meeting. Click the "ReadMore" button below for a copy of the slide presentation from the conference.
Self Processor Summit 2014 slide show
Working with CU*Answers
Learn more about our Leadership Team, CUSO Partners and who to contact if you have questions
Core Products
Learn more about the Features of our Flagship Product CU*Base Gold.
Complimentary Products
Does your Credit Union have everything that it needs? Review our line of Complimentary Products and how they can benefit your Credit Union.
Training and Education
The backbone of every good company is a well trained staff. Keep your staff up to date and check out the many opportunities to learn about knowledgeable
Managing Your Technology
Find many Best Practices and developing ideas that will aid in Managing your Technology
Core Data Processing
The CU*BASE system combines the processing power of a proven, feature-rich application with business logic.
In-House Strategy
The solution for In-House processors of any size is our CU*BASE Member Processing System.