Insights into the health of your Online Credit Card Portfolio are easier than ever with an Online Credit Card Scorecard!  Spend less time data mining and more time considering how to leverage actionable insights – this scorecard will detail portfolio balances by credit quality, member purchase transaction volumes, member age demographics, top of card wallet utilization, and more.
This two-page report is presented in a clean and concise layout for easy interpretation and decision making.  Scorecards are delivered electronically via email as a PDF document.
*Please note: the Online Credit Card Scorecard is available only to credit unions who have an Online Credit Card Portfolio (this data is not available on OTB credit card portfolios).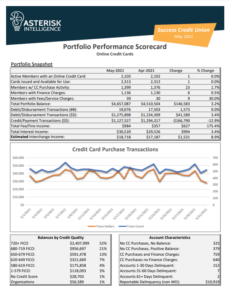 Ready to order your Online Credit Card Scorecard?  Click the button below to visit our online store.
Stay tuned for information on additional store offerings from Asterisk Intelligence in the coming months!