Share with Your Partners!

Have you developed a risk assessment format that you believe works well and satisfies the NCUA requirements?
Share your format with your CUSO partners! Submit a copy of your risk assessment
or the template you used (clean it up to remove any details you'd rather keep private, of course) to dmoore@cuanswers.com and
we'll make sure it is posted here for others to learn from.
This website is designed to assist credit unions in completing their Internet Banking risk assessment as required by the "Guidance on Authentication in Internet Banking Environment" (NCUA letter 05-CU-18). You'll find technical information and business considerations related to It's Me 247 Online Banking. This page also includes links to additional resources that can help you in your own risk assessment process.
We hope you will find what you need here – please let us know if you have anything you'd like to contribute to make the site more helpful for you and your partners!
Tools To Complete Your Risk Assessment
CU*BASE and the FFIEC Supplement to Authentication in an Internet Banking Environment

Completing your Credit Union's Internet Banking Risk Assessment

It's Me 247 Online Banking Risk Assessment: Product Feature Matrix

Strategies for Controlling Member Access to It's Me 247 Online Banking
Other Resources
PIB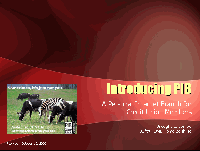 The following information is all PIB specific.
Introducing PIB: A Personal Internet Branch for Credit Union Members


(PowerPoint presentation used during the 2006 Annual Leadership Conference)

Presenting Your Personal Internet Branch

(Sample marketing piece: tri-fold brochure)

Understanding the PIB System

User manual and rollout instruction documents.

Sample PIB Badge: