About Us
Currently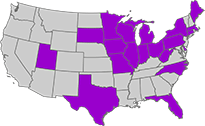 CU*Answers provides services to over 190 credit unions in 18 states, representing nearly 1.5 million credit union members and $12 billion in credit union assets. Clients range in size from 700 to 65,000 members. Headquartered in Grand Rapids, Michigan, CU*Answers employs a staff of more than 180, with 40 full-time programmers and a technical and client support staff of over 75 professionals with decades of combined experience serving the credit union and data processing service industries.
CU*Answers is truly a complete service provider for credit unions, offering a wide array of products to meet rapidly changing needs. Some highlights:
The core CU*BASE system available in either an ASP (application services provider) or Self-Processing environment
Member Check Processing offering imaging and Internet retrieval capabilities
Direct Deposit featuring Checkmate or Federal Reserve Bank deposit endpoints
CU*Answers University, a comprehensive and free ongoing training strategy designed to meet the varied needs of your entire staff
CU*Answers provides a single solution source for delivering systems such as ATM, debit card, interactive voice response, Internet PC home banking and item processing solutions all tightly integrated as part of CU*Answers complete core solution for credit unions. CU*BASE features Network Serivces - a Virtual Private Network (VPN) offering a secured, high-speed link to access select business partners and CU*Answers support services. CU*BASE uses industry-standard LAN/WAN networking tools and a variety data retrieval and archival options.
CU*Answers is a leader in offering a seamless, single business solution to improve business processes, empower clients and deliver bottom-line results. Let us know what we can do for you!