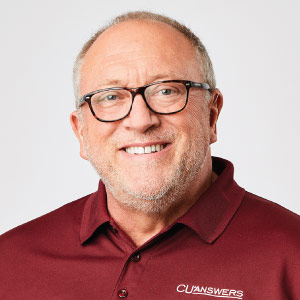 President/CEO, Notre Dame FCU
Director Info
Current Positions:
Board Member
Nominating Committee Chair
Handbook Committee
Investment Committee
Member Since: October 2016
Term Ends: September 2021
Biography
A native of South Bend, IN, Tom is a 1979 graduate from the University of Notre Dame with a BBA in Finance and a 1982 MBA recipient from Arizona State University. Spanning a financial services career of more than 30 years, Tom has amassed significant experience and success across a broad spectrum of operational and bank management areas including lending, technology, and investment management services.
Through his past experience, Tom has become particularly adept at expense management, and diversified growth and retention strategies. As President/CEO of Notre Dame FCU, Tom has made his mark by introducing new products and services, upgrading legacy technology and instituting programs that focus resources on the credit union member and promote employee participation in community events. This innovation and success was acknowledged by his industry peers when Tom was named, 2016 CEO Trailblazer of the Year by Credit Union Times.
Professional Associations
Notre Dame Federal Credit Union
Adjunct Faculty Member at the University of Notre Dame
Holy Cross College Board of Trustees
St. Vincent DePaul Society Member
Knight in the Order of Malta
Member of the Knights of Columbus
Board Member of EnFocus (organization dedicated to retaining highly skilled college graduates in the local community)
Credit Union Info
Notre Dame Federal Credit Union
P.O. Box 7878
Notre Dame, IN 46556-7878
phone: (574) 400-4602
email: tgryp@notredamefcu.com
website: http://www.notredamefcu.com/