Electronic Check Processing
CU*Answers has offered premier Check Processing services to credit unions since the early 1980's via its CU*Check application. Today, CU*Answers provides Electronic Check Processing services to over 60 credit unions, processing over 1 million checks monthly.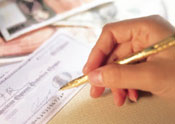 CU*Answers has an on-going commitment to invest in technology, and has recently upgraded to an Electronic Check Processing environment. By eliminating the transport of paper checks, CU*Answers is now able to provide image check processing services to any credit union nationally.
The success of CU*Check comes from the quality service provided through the Item Processing Support team. This dedicated group is trained to provide personalized and responsive client service. They are available to assist with any issue that may arise, including difficult reconciliation and balancing issues.
What are the benefits of partnering with CU*Answers for Check Processing?
Elimination of 3rd party vendor fees for accessing check images, and creation of CD-ROMs
Full integration with CU*BASE ensures all daily transmissions are received and posted to member accounts
Returns and adjustments are transmitted daily, and eliminates FRB fees for processing returns
Duplicate item detect for checks processed during previous 30 days, minimizing frustrating errors
For non-CU*BASE clients, the interface to your present data processing provider is fully tested and certified - making the conversion process to CU*Answers Electronic Check Processing is a simple process