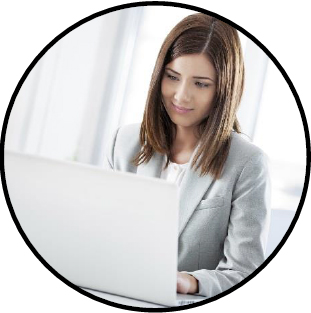 For credit union staff who prefer learning at their own pace and on their own schedule, CU*Answers University offers online training resources that covers a multitude of topics related to CU*BASE, soft skills, and compliance. From video tutorials to courses available through the CU*Answers University online campus, there is something for everyone. Following is a complete list of online training resources.
Booklets and Documentation
AnswerBook
This online database includes thousands of questions and answers about CU*BASE and is a very popular resource among clients seeking to learn more about CU*BASE. Each time a Client Services & Education team member receives a client question, they document the answer in AnswerBook.
Asking the right questions *NEW!*
This online database includes hundreds of frequently asked questions posed by credit union board members to their management team.
Understanding the numbers is only part of the process. These questions will help determine whether credit union staff have analyzed the numbers and devised a strategy to move their credit union towards better returns.
Building the Factory Instructional Manuals
This series of "do it yourself" instructional guides shows clients how to harness the power of the CU*BASE toolset to conduct marketing campaigns that will help their credit union increase product sales. With step-by-step instructions that take clients from launching a campaign to analyzing the results, these guides make it easy to unlock the revenue-generating opportunities within CU*BASE.
CU*BASE Reference Materials
This site includes booklets on various CU*BASE-related topics and is an excellent resource for staff who are looking to become more familiar with a particular CU*BASE feature or tool.
It's Me 247 Reference Resources
This site includes reference materials related to It's Me 247 Online, Mobile, and Text Banking. The site also includes documentation on related products such as MoneyDesktop, CU Mobile Apps online banking app, and the various online bill pay options that CU*Answers offers.
Access It's Me 247 reference resources
Special Interest Publications
These online publications cover topics beyond the CU*BASE software and are especially good for credit union leaders and key personnel to help them make the most of their relationship with CU*Answers.
Access CU*Answers special interest publications
Understanding Your CU*BASE Invoice
This site, designed for credit union accountants and CEOs, explains the ins and outs of the CU*Answers monthly invoice and how clients can correlate CU*Answers pricing and monthly invoices with the way their credit union earns. The site includes a sample invoice, information on billing codes, and a sample credit union five-year pricing overview.
Newsletters
Education Report Newsletter
This newsletter, emailed to subscribers monthly, keeps clients informed of upcoming courses and training events.
For the Record Newsletter
Read this quarterly newsletter for tips on developing an effective records and information management (RIM) program that meets business needs and helps you comply with regulations. The newsletter also includes news on the latest RIM happenings as they relate to the credit
union industry. This newsletter does not require a subscription; each time a newsletter is published, it will be emailed to all those on the CU*Answers Client News email distribution list.
SettleMINT EFT Newsletter
The CU*Answers SettleMINT EFT team understands how important
card servicing, bill payment, and shared branching can be for your
members, so they offer this quarterly newsletter to keep you updated
on the latest products and news related to electronic funds transfer
services. Visit here to subscribe.
Online Campus
We offer free on-demand courses that you can take any time anywhere. Options for the CU*Answers University Online Campus are listed below and on the following page.
Free Campus with Administrator Access
CU*Answers University offers a wealth of on-demand courses, both credit union-specific and CU*BASE courses, all available at no charge through the CU*Answers University free online campus. Many of the courses listed in the training schedules beginning on page 31 have an ondemand course equivalent, as indicated by the heading "On-Demand Equivalent" on the course syllabus. This allows those who cannot attend the scheduled course to take the on-demand equivalent at a time convenient for them. To access on-demand courses, click the Network Links button in CU*BASE and select CU*Answers University. With administrator access to the free campus, online campus administrators can track learning progress, award certificates of completion, and design individual development plans. To learn more about this resource, visit the CU*Answers Store 
Full Campus
The expanded campus includes everything the above-mentioned free campus includes, plus
more than 100 additional credit union-specific on-demand courses, a course-authoring tool with
which to customize courses with your specific credit union content, branding capabilities, and
more!
Visit the CU*Answers Store
Expanded Campus
The expanded campus includes everything the above-mentioned free campus includes, plus 76 additional credit union-specific courses, 5 additional course categories, a course-authoring tool with which to customize courses with your specific credit union content, branding capabilities, and more!
Learn more about the expanded online campus
Online Campus Administrator Training
This 45-minute webinar is a primer for newly designated online campus administrators wishing to learn how to manage online learning for their employees. To register, please watch for an email invitation, which will be sent to all those on the CU*Answers Client News email distribution list. To be added to this list, contact the CU*Answers Writing Team at clientnews@cuanswers.com.
Online Help
CU*BASE GOLD Online Help
One of the most widely used training resources offered to CU*Answers clients, this robust and comprehensive online help system includes a topic that corresponds to each of the thousands of screens that make up CU*BASE GOLD. This library of CU*BASE-related information helps clients become power users of CU*BASE GOLD.
It's Me 247 Online Help
While this resource is designed for members using It's Me 247 Online Banking, it' s also useful for credit union staff seeking to gain a deeper knowledge of online banking and its features. It's Me 247 online help includes a section of frequently asked questions about It's Me 247 as well as tips for completing various tasks within online banking such as opening a new account, personalizing online banking pages, and adding security features to online banking.
Show Me the Steps
This how-to help system provides simple step-by-step instructions to help clients complete various tasks in CU*BASE. It also includes an extensive video library with close to 200 video tutorials for those who learn best by seeing the software in action.
Visit Show Me the Steps online help
CU*Base Operator Edition Online Help
This online help system includes information about system-configuration screens as well as
many of the daily-processing tools within CU*BASE Operator Edition. This helps CU*Answers
self-processing credit unions learn more about tools used by their operators. It also helps all
credit unions better understand the system configurations that control their daily operations.
 Videos
As part of the CU*Answers Presence over Video (POV) initiative, which aims to improve client communication and training through video, CU*Answers has developed an extensive library of video resources, which are outlined below.
Cybersecurity Literacy For Credit Union Directors
CU*Answers knows cybersecurity adds to an already heavy burden on credit union directors. Watch this comprehensive video, also available in DVD format, to learn about core concepts related to cybersecurity. The video even includes a test to assess your knowledge.
Financial Literacy Series for Credit Union Board Directors
This series of 12 videos, also available in print or DVD format, is geared toward those new to the role of credit union board director. It even includes tests for participants to assess what they've learned.
It's Me 247 How-To Video Series
Although this video series is designed for members, it's an excellent resource for new staff unfamiliar with It's Me 247 Online Banking and the various online bill pay options that CU*Answers offers. The videos explain how to perform tasks in online banking and online bill pay.
Access It's Me 247 How-To Videos
OnDemand
Providing access to over 100 videos, the CU*Answers OnDemand site includes CU*BASE training videos, release training webinar recordings, and more!
Access the CU*Answers OnDemand site
Show Me the Steps Video Tutorials
A how-to companion to CU*BASE GOLD online help, Show Me the Steps offers close to 200 video tutorials that show clients the ins and outs of CU*BASE GOLD. With videos on everything from back-office functions to lending tools, the Show Me the Steps video library has a video to answer any question a CU*BASE user may have. The collection of videos also includes tutorials on member self-service products such as "It's Me 247" Online Banking and the CU*Answers mobile banking app.