WordPress With SiteControl Is Your Website – Under Control. Updates On Your Own Schedule.

WordPress is a popular, state-of-the-art content management solution for web sites. WordPress is easy enough to use yet extremely flexible and powerful. You can get started immediately with the basic features and included themes, then grow into the advanced features and realize WordPress' full potential. WordPress is based on the same software used to power high profile companies such as New York Times, Dow Jones, Reuters, Harvard, Rolling Stone and many more1.
SiteControl is your website – under control. Updates on your own schedule.
Feature List of all the stuff WordPress can do
Page & menu Management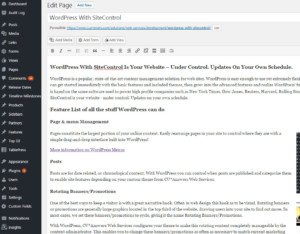 Pages constitute the largest portion of your online content. Easily rearrange pages in your site to control where they are with a simple drag-and-drop interface built into WordPress!
More information on WordPress Menus
Posts
Posts are for date related, or chronological content. With WordPress you can control when posts are published and categorize them to enable site features depending on your custom theme from CU*Answers Web Services.
Rotating Banners/Promotions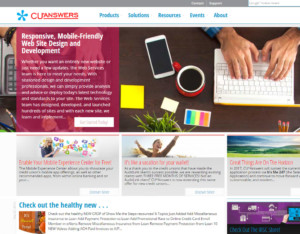 One of the best ways to keep a visitor is with a great narrative hook. Often in web design this hook as to be visual. Rotating banners or promotions are generally large graphics located in the top third of the website, drawing users into your site to find out more. In most cases, we set these banners/promotions to cycle, giving it the name Rotating Banners/Promotions.
With WordPress, CU*Answers Web Services configures your theme to make this rotating content completely manageable by the content administrator. This enables you to change these banners/promotions as often as necessary to match current marketing campaigns.
See this type of hero in practice on Cal Poly FCU and our Marketing site.
Gravity Forms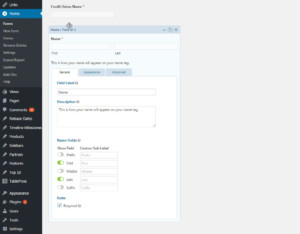 With the Gravity Forms plugin, you are able to build custom forms for your website. Unlike most form builders, Gravity Forms is intuitive and extrememly easy to use.
Please note: For the safety of our clients and their members, we do not allow confidential information to be stored on our Shared Hosting environment. For this reason, do not prompt visitors for any personal or confidential information via Gravity Forms.
Gravity Forms is included with all CU*Answers Web Services WordPress installations.
Social Media
With WordPress you can engage your visitors via social media by adding your social media links to a custom menu area, allowing you to add/remove social media as needed.
SEO
Search Engine Optimization or SEO is the term for modifying your site to increase your search engine rankings. WordPress by default is SEO enabled and upon installation, CU*Answers Web Services professional enable the appropriate settings for SEO. SEO can be further enhanced with some plugins, contact Web Services for pricing and more information.
Responsive Design
Having your site content available on any device is becoming increasingly important. With Responsive Design, CU*Answers Web Services provides a consistent experience across a wide range of devices, allowing your members to use your site however they choose. With Responsive Design, your site's content will be customized for Tablets, Desktops, and Cellular Devices, appearing in an easy-to-consume format for each device. Responsive Design allows you to add, remove, or update content in one spot and have it available everywhere. All websites built by CU*Answers are now built using Responsive Design.
Have questions about Responsive Design? Feel free to call or email Web Services!
Widgetized Area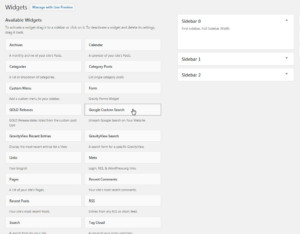 With WordPress you have control over the main content through the main content management features. But you also have control over what is displayed in other portions of your site. The Widget areas are the "extras" of you main content and usually contain less important links and information. WordPress gives you the ability to modify these areas through the widget feature. This feature enables you to drag and drop various blocks of content into the Widgetized areas and rearrange as needed.
Simple Financial Calculators
Web Services offers simple financial calculators with our websites. These calculators provide basic functionality for your members to estimate monthly payments, interest, and number of payments. We are happy to implement financial calculators from other vendors for those who require a more robust solution.
Search
Search is an important feature of your site. With WordPress search is built in and allows a visitor to scan you entire site for the desired content. CU*Answers Web Services takes this a step further and enables certain advanced search functionality on most sites.
Featured Rates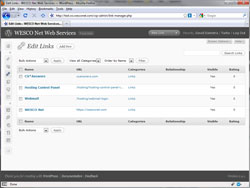 Part of your site is being a resource for your visitors. CU*Answers Web Services offers Featured Rates, a custom WordPress solution that places your rates in a prominent location on your site, allowing you to draw members farther into your site.
Check out Featured Rates on IBEWUWFCU and RRCCU.
SiteControl
With Web Services WordPress SiteControl we are always adding features. Let us know if there is something specific you are interested in and we'll see what we can do!
Satellite Rateboard
Web Services SiteControl Plugin has the Satellite Rateboard built right in. All you need to do is tell SiteControl where you want it and CU*BASE does the rest, automatically updating your rates when a change is made inside of CU*BASE (Updates take 1 day).
Library Articles
With the SiteControl plugin you are also able to use prebuilt content on your website, including library articles, shared marketing content and calculators.
Download The WordPress Management Brochure