CU*Answers wants our clients to be successful. Not only do we say it, but we're walking the talk as well. Announcing, Building the Factory! This series of documents backs up our desire for your credit union to thrive and get the most out of your partnership with CU*Answers and the powerful toolset we provide. The majority of these volumes are revenue generators and cost nothing to implement!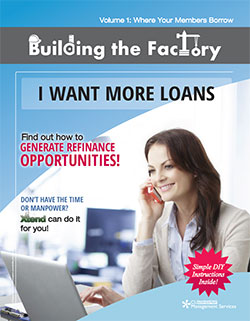 These road maps will take the user from the very beginning point all the way through to the end of the process and the evaluation of the campaign. This design will contain all the steps necessary to create the campaign, the steps to follow through to the end using the referenced CU*BASE options to mine the data and track the sales success.
These revenue generating opportunities are at your fingertips right now. Get curious, push buttons!
Watch the Building the Factory Overview!

What is it?

A series of step by step DIY instructions to take full advantage of the CU*BASE toolset.

How much does it cost?

Nothing! If you do the work yourself – you will never be charged.

How do I get started?

Below is a list of the current volumes. Download the PDF and go!

What if I don't see what I'm looking for?

This is an ongoing initiative and we'll be creating new volumes as our software evolves. Feel free to make a suggestion in the meantime.
See what Building the Factory has to offer!
Building the Factory products are now available to order in the store.
Data Boot Camp 2016
Driving Loan Volume
Income Impact
Managing Credit Risk
Cross Sell Opportunity
Risk Management
Love the idea but no time to go through the step? No problem, we'll do the work for you! Just select "I would like Xtend to do it for me" when adding to the cart!

Contact The team with any specific questions using the form below.