Hotel rate:

$234/night (plus tax and fees)
This special rate expires May 31!

Parking overnight guests:

$19 (self-park) or $24 (valet)

Reservation cutoff date:

May 31, 2023

Reservation toll free:

1-877-901-6632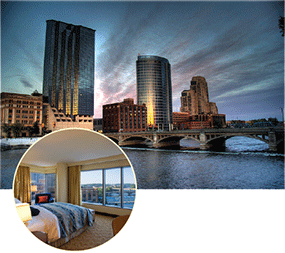 The J.W. Marriott Grand Rapids, situated in the heart of downtown, is meticulously designed for both business and pleasure. The J.W. has 340 smoke-free rooms and suites on 23 floors. Guest services include on-call housekeeping and a 24-hour Fitness Facility with steam rooms. The Executive Business Center offers 24-hour faxing, copying, printing, and shipping services. Enjoy inspired dining at the JW's signature restaurant, six.one.six, and our stylish cosmopolitan lounge, Mixology.
Reserve your hotel online or call 877-901-6632.
The cutoff date for this special rate is May 31, 2023!
If you need assistance contact Stephanie Underwood at stephanie.underwood@cuanswers.com (800) 327-3478, x511
Additional Hotel Information
Amway Grand Plaza
187 Monroe Ave NW
Grand Rapids, MI 49503
(616) 774-2000
Courtyard Grand Rapids Downtown
11 Monroe Ave NW
Grand Rapids, MI 49503
(616) 242-6000
Holiday Inn Grand Rapids Downtown
310 Pearl St NW
Grand Rapids, MI 49504
6 minute walk
(616) 235-7611
ihg.com
Transportation
Calder City Cab

616-454-8080

Metro Cab

616-827-6500

Yellow Cab

616-459-4646

Uber

Download the app!
Rental car services for all of the major rental car agencies are available at the Gerald R. Ford International Airport. All conference locations and restaurants are within an easy drive of the airport and hotel, and maps can be provided upon request.  J.W. Marriott does not offer shuttle service. If you do not wish to rent a car, we can also recommend several area taxicab services. The ride from the J.W. Marriott to the airport runs about $35.
Attire
Please dress casually for all events. If you want to explore Downtown Grand Rapids wear comfortable walking shoes.  Check out Experience GR for some tips.
Maps & Directions