Wow! When the market talks about something like the complete replacement of all your plastics in a credit/debit card portfolio, it sure gets people talking.  SettleMINT EFT, as well as AuditLink, and Lender*VP have heard a great deal on the street about "EMV".
What is EMV?
From Wikipedia
EMV stands for Europay, MasterCard and Visa, a global standard for inter-operation of integrated circuit cards (IC cards or "chip cards") and IC card capable point of sale (POS) terminals and automated teller machines (ATMs), for authenticating credit and debit card transactions. It is a joint effort between Europay, MasterCard and Visa to ensure security and global interoperability so that Visa and MasterCard cards can continue to be accepted everywhere.'
The distinguishing feature of EMV is that the consumer-payment application is resident in a secure chip, (often referred to as a chip card or smart card) that is embedded in a plastic payment card or in a personal device such as a mobile phone. The chip provides three key elements; it can store information, it can perform processing, and because it is a secure element, it can securely store secret information and perform cryptographic processing. These capabilities provide the means for secure consumer payments. In order to execute a payment, the chip must connect to a chip reader in an acceptance terminal.
EMV Moving Forward in the US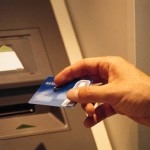 We have heard very few black-and-white answers on the EMV effort for the United States. In researching EMV technology and the upcoming requirements of Visa/MasterCard and American Express, we found very few EFT vendors that had information on the new technology or that spoke to a plan of migrating clients over to the EMV technology in the United States.  We did find some type of eventual effective dates for websites that linked to a foreign country such as Canada.   We know that the whole world is moving to EMV technology and that smaller countries do not have the same issues as the United States.
It could take years to convince merchants, EFT switches, ATM owners, and consumers that the benefits of this new technology outweigh its costs, and we do not see Visa/MasterCard mandating this any time soon.
Currently there is no requirement for financial institutions to either accept (at ATMs) or issue EMV cards. However, there are two dates that begin the process and shift the liability to make moving to EMV an advantage. They are:
April 2013:
The first is a mandate deadline for acquiring processors (merchants) to be able to accept an EMV transaction.
Also in April 2013, there is a Liability Shift for ATM Owners – ATM owners will become liable for fraudulent transactions performed with EMV cards issued internationally through the Maestro network if their ATM is unable to read the chip card. Note that this is NOT a mandate, but a liability shift and applies only to internationally issued cards through the Maestro network.
October 2015:
U.S. Liability Shift for POS – This is the first date that really affects issuers.  As of this date, the party (merchant or issuer) that supports the most secure method of payment will avoid liability.  As an example, if an issuer has chip cards, but the terminal cannot support them, then the merchant would assume liability for fraudulent transactions.  If both parties support chip cards, then standard rules apply as they do today.  It is important to note that again, this is a liability shift and NOT a mandate, so issuers technically do not need to issue chip cards.
What does this mean to you?
This means that the move to EMV in the United States will take some time. Keeping up on how this effort is progressing benefits both your EFT portfolio and budget planning.
SettleMINT EFT will continue to monitor marketplace efforts from our 'switch' networks; we will also continue to monitor plastics vendors and their EMV plans for our mutual credit union business partners.  We are also keeping an eye on any communications/mandates for any future EMV recommendations or requirements. We also ask that you share any EMV communications with us.
EMV Plastics
Since we are early in the process, CU*Answers has not received any specifications to indicate a chip vs. a magnetic-stripe plastic for card-order requests.  At the time you begin using an EMV card, we recommend a roll-out based on card-expiration-date reissues to get the EMV cards into your members' hands.
Currently, it is estimated that plastics with chip capability will cost about twice as much as cards you are currently providing to your cardholders.  We recommend contacting your card manufacturer for more detailed pricing quotes (some may not have this pricing yet).  As with all new technology, we would expect prices to drop as EMV cards mature in the marketplace.
ATM Terminal Upgrades
We heard that pricing for the ATM terminal upgrade can run around $500.00. If you perform your own research and obtain more specific pricing information from your ATM terminal provider, please send the pricing information to the SettleMINT EFT team at settleminteft@cuanswers.com. This will help us communicate more specific pricing information to our network credit unions.
VISA / MasterCard Implementation and Recurring Fees also apply.
More information
New Website! We now have more information from Smart Card Alliance,  a not-for-profit, multi-industry association that provides understanding, adoption, use and widespread application of smart card technology. They provide online EMV training courses and have a great section called About Smart Cards: Smart Card Alliance
EMVCo, formed in 1994, is owned by American Express, MasterCard, Visa and JCB (Japanese Credit Bureau). They manage, maintain, and enhance the EMV®1 Integrated Circuit-Card Specifications to ensure global interoperability of chip-based payment cards with acceptance devices including point-of-sale terminals and ATMs.  Their website; EMVCo  is very informational as well as their EMV presentation found as a download in their Best Practices tab > A Guide to EMV.
Shoreline Business Solutions is a provider of card-personalization services. They offer a wide variety of products including debit cards, ATM cards, credit cards, healthcare IDs, as well as EMV card and contactless options. Their website has the most robust EMV information:  Shoreline EMV presentation
So at the end of the day… more to come…