Mobile First is a new buzzword, one you're going to be hearing a lot more during 2020 and 2021. As announced at the CEO Strategies event in November 2019, we are moving forward with a transition to a mobile first design for our solutions in the internet channel.  So what does that mean?
What Mobile First Means
NEW!  See some pictures of the new Mobile First look and feel from the November 2020 CEO Strategies webinar
NEW!  Download the app to try the new Mobile First design yourself!
Mobile First means…a unified look, feel and navigation for desktop, mobile web, and mobile app banking.  Mobile first means making tools that looks like they were designed smart, considering the inherent differences between device capabilities (hover versus swipe, for example).
Mobile First means…starting with the smallest canvas you support (a phone) and designing an experience for that, instead of working from large (desktop) to small (phone), with all of the compromises that entails. In other words, we'll design in It's Me 247 mobile banking first and then decide how they'll work in desktop banking.
Mobile First means…a great tablet design means no more desktop-only UI.  Features that used to require the desktop UI (due to screen size), we'll now think tablet instead.
Mobile First means…modules: a unified development strategy that allows functions to be coded once, and deployed in a variety of platforms.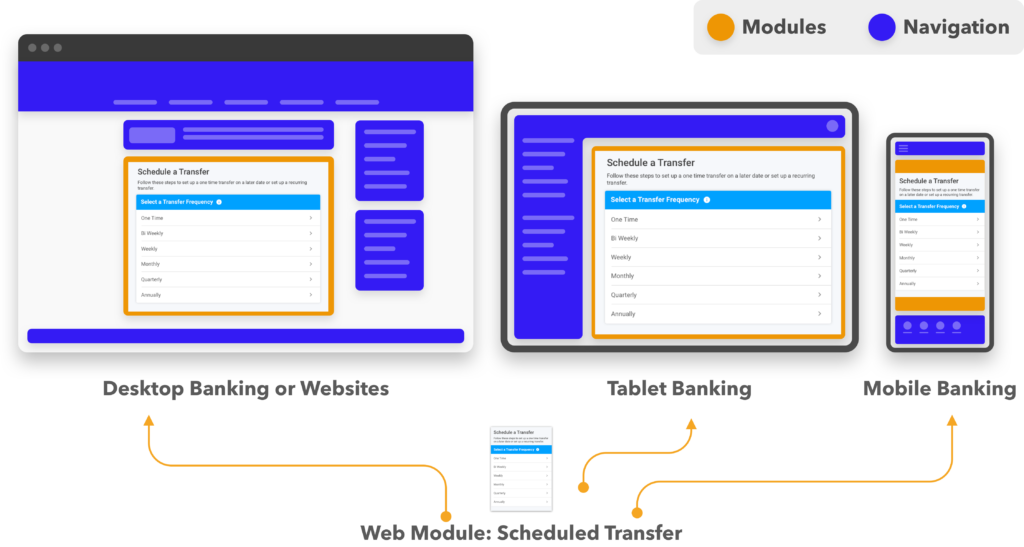 Mobile First means…reflecting the way the rest of the world is going.
What Mobile First Means to Our Development Queue
Mobile First means…doing something one way, no matter what the device/platform/infrastructure is.  Rather than juggling competing demands between desktop and mobile development, testing, and implementation resources, mobile first will let us focus our investments in time and money.
Mobile First means…our existing back-end infrastructure and development teams will now be focusing their efforts in a new direction, with new coding tools and processes.
Mobile First means…temporarily delaying approval of new enhancements to It's Me 247, and possibly discontinuing work on projects already in the queue, so that we can focus on developing and implementing the underlying modules infrastructure.
Mobile First means…we may leave some features in desktop banking behind, if they don't lend themselves well to the mobile user experience. For example, Promise Deposits will be sunset with the implementation of the mobile first design, replaced by remote deposit capture (RDC) functionality.
Mobile First means…inconveniencing ourselves and our CUs now so we can do something big down the road.
What Makes Mobile First Possible: Modules
Watch the episode from the 2020 Leadership Conference
View the slides from the 2019 CEO Strategies Conference