Overview
The Internet Retailer Support Center (IRSC) is a new support desk at CU*Answers for credit union virtual channel project managers. It brings together several digital strategy products into one cohesive location and a single point of contact—no more searching across CU*Answers' websites for forms saved in different places! Credit unions looking to expand their virtual channel marketplace will be able to shop and explore the offerings online as well as check project development status.
Related: API Development Update and Approaches to Mobile Products (RDC)
Virtual Channel Projects Offerings
Below we've provided a short description of some of the virtual channel products that will be available via the Internet Retailer Support Center, some of which are already available today.
FREE It's Me 247 Hybrid Mobile App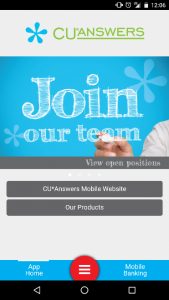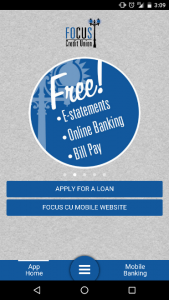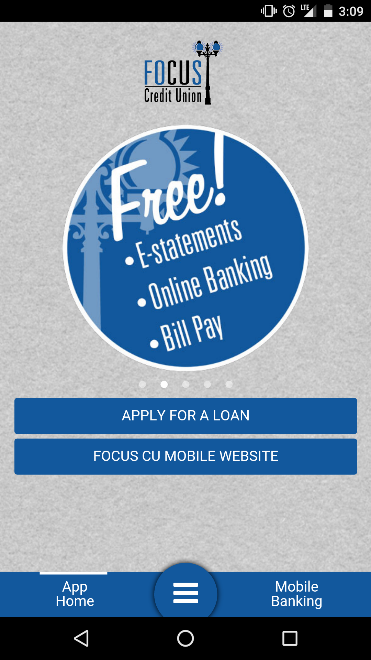 Credit unions now have the ability to work with IRSC on their FREE It's Me 247 Mobile App, which can be made available from the Apple and Google app stores, once all requirements are met. Using CU*Answers' content management system credit unions can add graphical ads, links to sites and services, assist questions and answers, branch locations, and access to It's Me 247 Mobile Web Banking via the app.
Prerequisites
Hybrid Mobile App Prerequisites
Introductory Webinar
Watch the Launching Your Free CU*Answers Mobile App Webinar (recorded)
Register for an upcoming webinar
Membership Application Process (MAP)
We have redesigned the online membership application making it mobile friendly, and added new features to enhance the member experience. Custom brand your membership application with your credit union logo and site colors. Set eligibility requirements and attach informational PDFs. Create promotions to target specific segments of your community. Add testimonials to help sell your credit union.
As with the current membership application process, applications will be sent directly into CU*BASE to be completed by your team.
More information on Membership Application and Opening Processes (MAP & MOP) on the Automated Account/Membership Opening Tools kitchen recipe.
Introductory Webinar
Watch the Getting started with the Membership Application Process (MAP) Webinar (recorded)
Membership Opening Process (MOP)
The all new Membership Opening Process adds the ability for prospective members join your credit union in an automated process. In addition to the features provided by MAP, MOP adds authentication using Experian Price ID, account funding using Intuit, and finally takes the member through account opening.
Booster Pages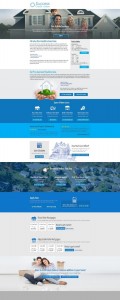 Booster pages are a new channel for marketing a wide range of products and services to members. A Booster Page's chief intention is to funnel sales leads into It's Me 247 for conversion into a sale. Booster Pages will give a member or potential member enough information to generate interest and create a click-through into online banking, where the visitor can purchase or enroll in the product or service that is being marketed on the booster page. Booster Pages will have many, sometimes more than a dozen, actionable buttons to drive sales of the product or service.
The initial focus of Booster Pages will be loan generation.  Credit Unions will likely have multiple Booster Pages targeting different segments of your membership and focusing of different loan categories.
Status: Coming Late 2016.
Mobile Experience Center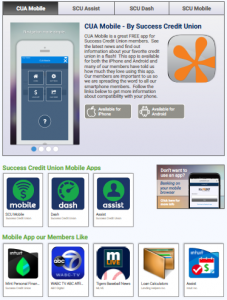 The Mobile Experience Center allows you to showcase your credit union's mobile app offerings, as well as other recommended apps, from within online banking and on your credit union website. Your Mobile Experience Center (MXC) allows you to feature 4 mobile apps with links to the Apple or Google Play stores.
It's Me 247 Navigation Features
Launch Points
Set the expectation that you are the central resource for your members to find important resources on the Internet with launch points in online banking. Add up to 24 links in 8 different locations in It's Me 247 to promote either your own website or to give quick access to vendor sites.
Logout Landing Pages
Improve your member's online experience by configuring a custom logout landing page. Instead of landing on the Online Banking Community (OBC) page after logging out, with this feature you can direct members elsewhere, such as a product promotion page.
IRSC: It's Me 247 Navigation Features
Existing Products in a New Role
Self-Service Channel Custom Branding Options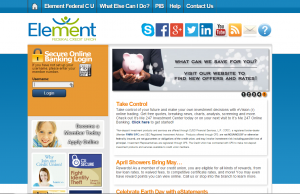 Customize online banking and mobile web banking to fit your credit union's unique style and brand. From making your logo the marquee on every page, to creating a unique color scheme and uploading custom photo albums, your credit union can now take full advantage of our self-service channel solutions.
OBC Customization
It's Me 247 Online Banking Community customization gives you the ability to set your credit union's home page, contact page, newsletter page, and rates page URLs so your members can easily access them from the OBC. Add links to your social media accounts (Twitter, Facebook, Google+, LinkedIn, YouTube, Skype) and get members involved. You can even change the background color to match your credit union theme!
Customizable Smart Messages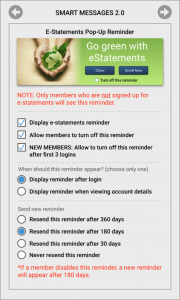 We introduced Smart Messages as a simple and free way to encourage members to sign up for more services through targeted advertising in online banking. For those looking for more control beyond what is provided in CU*BASE, we are researching the ability to create customized Smart Messages.
Status: In development. More information coming later this year.
Need Help?
The IRSC is multitude of interrelated products to enhance your virtual channels and digital strategies. If you need help, IRSC Account Executives can help out and guide you through the various options.