You heard about this at our Leadership Conference and CEO Strategies events, and now they're here!  We have gone into production mode for offering larger screen sizes for CU*BASE GOLD panels, to take advantage of larger monitors being purchased both for workstations and for conference room walls.
Where You'll See Larger Sizes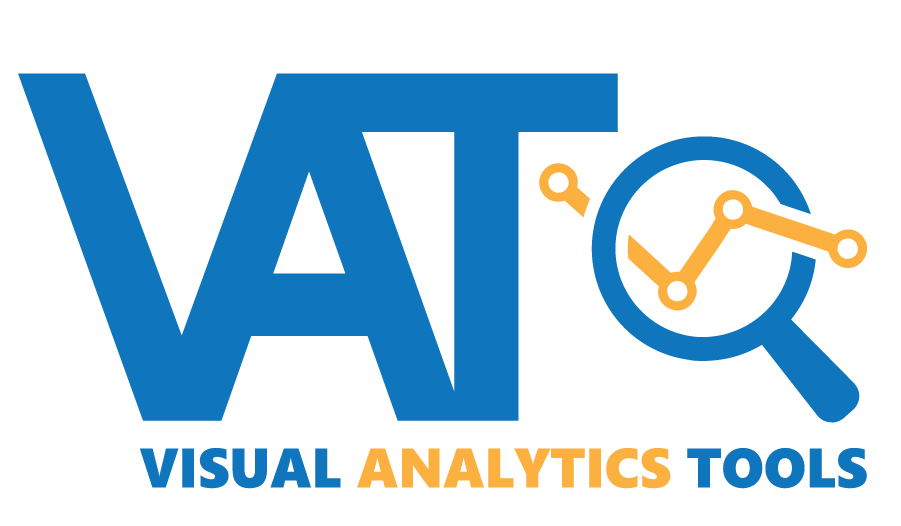 Unlike previous application-wide initiatives (remember ING from 2014, or even NGS from back in 2008?), this time we're focusing only on high-traffic, high-content screens used for analysis and day-to-day processing. Here's what we've done so far:
On-demand sizing was introduced with our five most popular VAT (Visual Analysis Tools) dashboards (12 screens total) with the 20.07 release.  You can use the Analysis feature on these dashboards, then use the new button in the lower-right corner to choose either standard (1024×768) or extra-large (1920×1080) size.
With the 20.11 release we implemented screen sizes on both the CU*BASE Home Page (1 screen) and the Lending Queue (Tool #2 Work/View Loan Application Status) and its associated Activity Tracking dashboard (3 screens).  Unlike the initial VAT screens with only on-demand sizing, these screens are controlled by the new CU*BASE Preferences feature, also introduced in that same release.
We will also be offering multiple screen sizes with the Xpress Teller application.  Learn more about this on the separate kitchen page.
Other projects currently in the development queue:
Proj #54536: Loan Request/Application screens (20 screens)
Proj #54528:  Member Inquiry/Phone Op main screens, account inquiry and transaction history (10 screens – we'll catch the other screens in a later project)
Proj 55451: Loan Creation and Denial screens (39 screens)
Proj 55515: Loan Write-off/Charge-off screens and related inquiry/maintenance (7 screens – doing these as a byproduct of the Recoveries development project)
Proj 55665: Credit Card Ordering/Maintenance and inquiry screens (23 screens)
Proj 55667: Trackers and Cross Sales Tracking screens (15 screens)
Proj 55670: Loan File screens from Tool #53 (45 screens)
Next up: ATM/debit card ordering and maintenance screens, membership maintenance/opening screens, the online banking request queue, the accounts payable suite, and many more.
Many CU*BASE screens, such as report screens, configurations, and simple maintenance screens, will likely remain in the standard size for the foreseeable future. But over time we will peck away at the tools and features where we can get the most bang for our buck.  (Suggestions are welcome!)
On-Demand Sizing vs. Preferences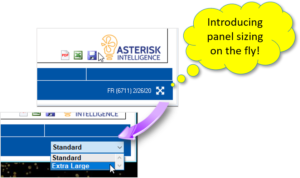 On our VAT screens we will be offering on-demand sizing, which means you can choose a different size on demand, as needed.  That way you could temporarily switch to the XL size only when you go into your conference room to give a presentation to your team or board.  Just look for the little 4-way cross symbol in the lower-right corner of the screen.
With the 20.11 release, we expanded the Preferences feature on the CU*BASE GOLD home page so that you can choose your preferred size.  Whenever you navigate to a screen where that size is available, the system will automatically switch to the larger size, then switch back to Standard when you exit the screen or move on to another one where that size isn't offered.
Our plan is to offer on-demand sizing only on VAT screens or other analysis features intended for use in a presentation format. Most other screens with multiple sizes will simply obey your preferences (which can, of course, be changed any time you like!).
Introducing XL Bonus Zones!
The XL size screen works great for VAT screens, where we need more room to spread out and add graphs and charts. But the underlying screen architecture (we refer to it as the "host screen") is physically limited in the amount of data it can present.  So for many screens, the extra-large screen ends up having some extra white space, usually along the side and bottom.  We could just make everything proportionally bigger, but we thought, wait, what else could we do with that space that would improve the experience for CU*BASE users?
Introducing XL Bonus Zones: areas on an extra-large CU*BASE screen where we can use API technology to reach out and grab additional data that's not shown on the underlying host screen, but that is related to it in some way.  Here are some of the ideas we have for this space: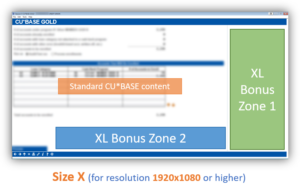 Show the last 5 Tracker conversations we had with this member

Show the last 10 transactions on this account
Show the member's picture ID (just like we're doing in Xpress Teller!)
Show a receipt image from the vault
Show a list of account balances for all of this member's other accounts
Show a list of signed documents found in the vault
Show reminders and to-dos to the CU employee, like follow-ups to work, alerts about items arriving in the loan or online request queue to be worked, etc.
Let us know if you have any other ideas of data we could grab from somewhere in CU*BASE and place in one of the bonus zones on your favorite XL screen!
Status:  Our first proof-of-concept project (#54487) will create an API to pull recent Tracker notes and present them on the size X panel for the new Xpress Teller ID Verification screen. Currently in development.
FAQs
What screen sizes are supported by CU*BASE GOLD?
What is the recommended screen resolution for GOLD?
How did you choose which screen sizes would be available for GOLD?
How do I change my screen resolution to take best advantage of the larger screen sizes available for CU*BASE GOLD?
Can't I just resize my GOLD window to any size screen I have?
Why doesn't my CU*BASE GOLD session fill my entire screen?
What should I consider when purchasing a new workstation?
What does it mean to "maximize" my window?
Related Reference
View the introductory slides from the 2019 CEO Strategies presentation.
View sample prototypes of the VAT extra-large screens