Chef for this recipe:  Randy Karnes
ADA (Americans with Disabilities Act) and our Online/Mobile Solutions
Like many things related to the internet and the credit union regulatory environment, this topic is truly trending right now with our clients.  We are getting a lot of inquiries wishing we would clear the fog as to It's Me 247 online and mobile products as well as our web services.  However, given the lack of clear guidelines and legal approaches, we are not really ready to take a position at this time.  Exactly what does it mean to be "ADA compliant?" We are waiting for clarity ourselves.
As always, there are two points of view to consider.  First, there's the need to serve members, to provide services that consumers need and want from their credit union.  Then there's figuring out who gets to decide the approach to that service experience: the credit union, or the regulatory and legal community?  We need to gather some ideas here, consider our options, and let the dust settle a bit.
In the meantime, any questions should be referred to Randy at rkarnes@cuanswers.com.  As always, we will work together to create an approach that fits both our clients and the CUSO.
WCAG (Web Content Accessibility Guidelines): A History
In 1990 the ADA (Americans with Disabilities Act) was signed into legislation. This was a big step in providing regulation to prevent discrimination based on disability. Title III of the Act specifically addresses the responsibility of businesses and public access accommodations.
Much has changed in the last 28 years, and the ADA has not entirely kept up. Most noticeably this is coming to light with regard to technology, specifically online presence. The W3C (World Wide Web Consortium) has been attempting to make up for this disparity by publishing guidelines to create a more accessible web experience for individuals with disabilities.
In 1999, the first set of guidelines were released with the WCAG 1.0, and in 2012 updates were included to make WCAG 2.0 the new standard. The most recent version of the guidelines, WCAG 2.1, were released in June of 2018. This, along with the rising number of lawsuits being brought against businesses due to insufficient accessibility concerning their websites, is bringing the topic of Web Accessibility to the forefront of a lot of peoples' minds.
Unfortunately, the Department of Justice is slower at making moves to provide rules for businesses to adhere to. This is leaving businesses in a precarious state. They are continuing to be brought to court but have no clear direction on how to prevent litigation.
What We're Working On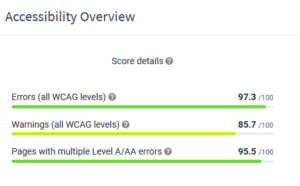 As introduced during the 2018 Leadership Conference, CU*Answers is building a new service and business.  Read about the new Web Accessibility Service, a 2-year proof-of-concept project brought to you by the CU*Answers Web Services team.
Also, project #46349 was implemented in the OLB 18.04 release and included these changes:
Add a general "Having problems using this site?  Contact the credit union…" message on both the OBC (login page) and It's Me 247 online/mobile.
Add a configuration so credit unions can customize the phone number that appears on this notice; customization is available via the IRSC store.
Ideas from CU*Answers Web Services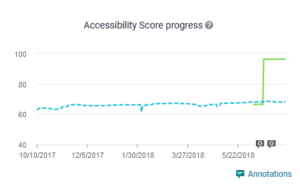 Although there is no way to guarantee against litigation, legal counsel is recommending that businesses follow WCAG to protect themselves and offer a more accessible web experience. Web Services is using a new platform, Siteimprove, that scans websites against the guidelines and makes recommendations on changes that will improve accessibility.
With the launch of our new Web Accessibility Service, we are offering the same to your Credit Union. Using Siteimprove, we will run an initial scan to determine the state of your webpages. It generally takes a few days for pages to be added and scanned. Once the first scan is complete, we will compile a report that will show issues that do not conform to WCAG and discuss recommendations for remediation. To assist with the remediation, Web Service will provide up to 10 hours of development time to be used within the first year of enrollment. We will then continue to scan your website and provide monthly reports on your progress toward accessibility.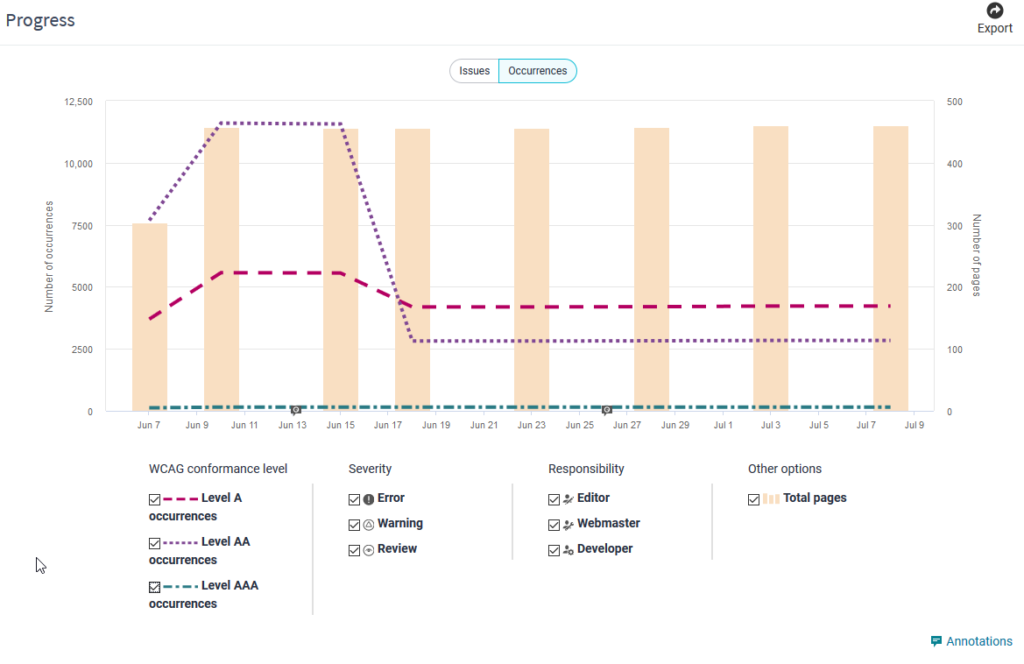 Additionally, we are recommending that clients add the following statement to their website, generally at the bottom. Screen readers will pick this up and it offers members having trouble with your website an alternative venue. This statement lets them know that you care about accessibility, you'd like to assist them and that you welcome their feedback:
"If you are using a screen reader or other auxiliary aid and are having problems using this website, please call [Your Credit Union's Telephone Number] for assistance. All products and services available on this website are available at all [Your Credit Union's Name] full-service locations. "
Learn More
Americans With Disabilities Act And Your Website
ADA Compliance Tools Overview & Common Accessibility Issues
Understanding the ADA Website Lawsuits (a CU*Answers Whitepaper)
Website Accessibility Service
Concerned about your website and web accessibility? Worried about the WCAG 2.0 guidelines and how your website conforms? CU*Answers Web Services is launching a new scanning, reporting and remediation service to monitor your website and guide your journey toward conformance.
As introduced during the 2018 Leadership Conference, CU*Answers Web Services now offers Web Accessibility Service. We are looking for a limited number of early movers to get our service started now.
This communication should not be considered legal advice. If you have concerns about your credit union's website, we recommend you contact your own legal counsel.