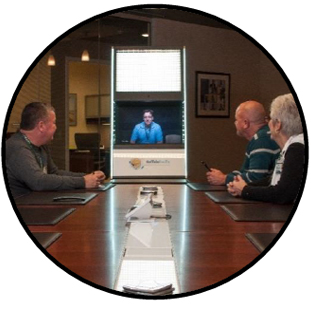 For those who enjoy the flexibility of online training but value the interaction they get from in-person training, CU*Answers University offers virtual training. This type of training allows credit union staff to participate from the comfort of their own desk while still being able to interact with an instructor and course participants in real time. Following are details about CU*Answers virtual training options.
Customized Board Education *NEW!*
Held virtually, this individualized training program was designed to help participants harness the power of CU*BASE analytics tools to help their board see the bigger picture. Tailored to achieve the objectives of each individual credit union, the three training offerings that are part of this program show participants how to use CU*BASE tools to clearly and effectively present relevant information to their credit union board members during board planning sessions. Learn more about each offering below and by visiting the CU*Answers Store.
Committing to New Retail Cultures
With this option, participants discuss what it means and what it would take to create and commit to a new retailing culture within their credit union. Participants consider the difference between traditional retail channels such as call center services and more creative online retail channels.
Analytics for Gain and Data-Processing Loss
The goal of this training option is to increase participants' analytical skills and strategies. During this webinar, participants discuss how they are approaching analytics and learn what it takes to produce real returns on data.
Why Data is The Best Currency for Inspiring Owners
As part of this training option, participants discuss what it would take to break the mold of internal control paradigms and barter data with the outside world, where all innovation comes from. Participants learn how to shift their thinking about analytics as a way to generate sales
and move toward the mindset that analytics is the foundation of trust and commitment among owners.
Webinars
Whether out of state or around the block, clients can attend CU*Answers University webinars for free, and without the cost of travel, making this a very cost-effective option. Webinars are a great choice for those who prefer a virtual learning environment that involves some level of interaction with the instructor and other participants. For a complete list of pre-scheduled webinars, see the training schedules beginning on page 31 and look for "webinar" in the Format column.
In addition to offering pre-scheduled webinars, CU*Answers offers webinars scheduled throughout the year. Listed on the following pages are details on some of the most popular CU*Answers webinar series that are scheduled throughout the year. To register for these webinars, please watch for an email invitation, which will be sent to all those on the CU*Answers Client News email distribution list. To be added to this list, contact the CU*Answers Writing Team at clientnews@cuanswers.com.
Education Express
Held monthly, the brief Education Express webinar focuses on upcoming training events, software upgrades, and more. This webinar series also serves as a refresher for CU*BASE tools clients may have forgotten about. Additionally, participants learn about CU*Answers documentation, including AnswerBook, CU*BASE online help, and other resources that help clients make the most of the CU*BASE toolset.
Executive Study Groups
When it comes to credit union operations, it's not what you expect, it's what you inspect. That is, even if you expect your business to grow, if you don't inspect performance and future opportunities, your business may not grow to expectations. Executive Study Groups are designed to show participants how to maximize credit union performance through analyzing current operations and opportunities to expand.
Active Beta Study Group
As a cooperative, CU*Answers seeks to involve its client-owners in all its operations, and nowhere is client input more valuable than in the
development of new software. Designed for CEOs and leadership staff, the Active Beta Focus Group aims to tap into the wealth of experience that credit unions have on their teams with the goal of turning CU*BASE tools into valuable workhorses that credit union teams will want to use every day.
Dashboard Dives
CU*BASE dashboards have compiled the numbers; join this webinar series to figure out how to use them to steer your credit union to success. Designed for CEOs and leadership staff, Dashboard Dives typically comprises ten webinars and gives participants the chance to discuss what the data in CU*BASE dashboards really means and brainstorm how to use it to create a winning business plan.
For the Record *NEW!*
Implementing a records and information management program can help your credit union manage member and employee records and information to meet business needs and comply with regulations. Join this monthly webinar to explore the basic concepts of records management and learn how to create, implement, and maintain a successful program.
Get Connected
This monthly webinar series focuses on CU*Answers Management Services and the people who drive them. These brief 30-minute sessions will introduce participants to CU*Answers Management Services and the value each service brings. Sessions will also include a discussion
of what's hot in the industry and help participants plug in to key resources within CU*BASE and the cuasterisk.com network.
Learning Cafe'
Join these monthly webinar sessions as you enjoy lunch at your desk! Sessions include a discussion of hot topics in the credit union industry such as regulatory updates and compliance best practices. Also discussed are new CU*BASE tools and features.
Lender*VP Hot Topics *NEW!*
Delivered by CU*Answers lending experts, this monthly webinar series is designed to help participants leverage CU*BASE lending tools,
dashboards, and reports to increase loan product usage and sales. During these brief sessions, participants get a quick overview of the latest CU*Answers lending products and services and learn how to use them to maximize their success in the area of lending. Participants also learn lending best practices and strategies that will help them harness the power of the CU*BASE lending toolset.
Release Training
To help clients get up to speed on the latest CU*BASE tools and features, CU*Answers provides training for releases that include a significant number of software enhancements.
Tricks of the Trade
This bimonthly webinar series highlights key pieces of documentation that clients will find
helpful. No registration is required for this drop-in webinar series. Please watch for an email
invitation and click the link in the email to join the webinar. Learn about upcoming webinars by
visiting Tricks of the Trade Newsletter.
Vendor Watch *NEW!*
This monthly webinar series focuses on AuditLink VM, a service that uses a robust database of vendor intelligence to help clients keep up with regulations surrounding vendor management. In this webinar series, participants learn best practices for vendor due diligence and explore key vendor-management resources. Additionally, participants receive a full demo of the AuditLink vendor-management site and service.
Xtend Spotlight Series *NEW!*
Held monthly and often multiple times throughout the month, Xtend Spotlight Webinars showcase products, services, and best practices to give credit unions the leading edge. During these 30-minute sessions, participants will get a quick overview of Xtend products and services that are most popular among clients and members and get insider tips on how to maximize their success in the areas of member communications, contact center support, bookkeeping, and mortgage servicing.