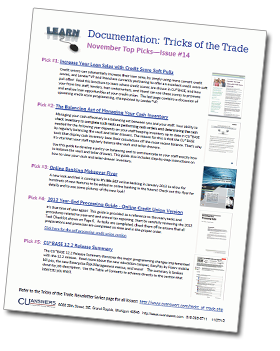 Are you sharing the monthly "Tricks of the Trade" email with your staff?
CU*Answers provides a wealth of education and documentation tools. This quick read will keep you and your staff informed about some of the key resources available. This will help you to encourage a culture of continued learning at your credit union.
Upcoming Tricks of the Trade Webinars
January 31, 2017 3:30 – 4:00 PM ET

January Top Picks – New CU*BASE Navigation

February 21, 2017 3:30 – 4:00 PM ET

February Top Picks – More New CU*BASE Nav

March 14, 2017 3:30 – 4:00 PM ET

March Top Picks – Employee Security Review

April 11, 2017 3:30 – 4:00 PM ET

April Top Picks – TBD
Emails with links for these webinars are sent a week before and the day of the webinar.
Previous Editions