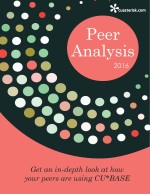 For years CU*Answers has helped its clients develop their own potential through many different training and networking opportunities. To promote this style of networking and build an information base for credit unions to use in considering, planning, and using CU*BASE products, CU*Answers presents the CU*BASE Peer Analysis. Use this guide to check out what features your peers are using, and get ideas about new features you might want to pursue in the future.
Whether you are thinking about launching a new initiative or making decisions on how to configure a new product or service, use the Peer Analysis to contact your peers who have already been down the same road. Although every credit union might have a different way of approaching individual features, we hope that the Peer Analysis helps you evaluate multiple points of view, to help you make the best decisions for your organization and your members.
As CU*Answers continues to expand on the survey and research capabilities of Learn from a Peer, we hope credit unions will continue to use them to help determine the best course of action for their credit union, as well as to collaborate with others in the network to provide the best offering to members. We've also included live data from the CU*BASE Learn From a Peer tools to sample some of the power of the tools.
And, as always, see how your credit union compares with your peers on penetration for self service offerings, including It's Me 247 online banking, mobile banking, bill pay, and e-statements. Then contact your peers for insight on how to increase your member adoption of these services! This year we expanded on mobile web by including the percent of your active online banking users that are using a mobile channel.
The Peer Analysis has four sections: An introduction, the worksheet itself, the Learn From a Peer documentation, and a guide that explains all of the categories used on the worksheet. Data for this analysis was gathered during April 2016, unless otherwise noted. Number of members and asset sizes are from Callahan & Associates Peer-to-Peer data as of December 31, 2015.