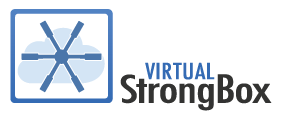 CU*Answers with its Relationship with Virtual StrongBox is Putting Every Credit Union in the Document Transfer Business
Through our relationship with Virtual StrongBox, CU*Answers is providing all credit unions in the network with free cloud storage. Credit unions also have the ability to move to the next level with Virtual StrongBox with branding, profit sharing, and more.
Send directly from ProDOC to Virtual StrongBox

The ability to send receipts and loan forms directly to a member's Virtual StrongBox is now available to all credit unions. CU*Answers Imaging Solutions release managed in house clients and online clients can contact CU*Answers Imaging Solutions for assistance in getting started with this feature.
Download the Virtual StrongBox Brochure
Check out the Virtual StrongBox Video Series!
Members Access Virtual StrongBox via a Single Sign-On (SSO) From Within Online Banking
Now credit unions can offer members an SSO link to an online safe deposit box, accessed from directly within It's Me 247. Here, members can conveniently save their important documents, such as wills, mortgages, tax documents and loan forms—all safely and securely.
Virtual StrongBox Allows Members to Exchange Documents via a Secure Link
Members can also share documents with whomever they wish, including your credit union. You can also use the service to exchange and distribute documents securely with any of your members. This alternative to secure email and file exchange services has proven to be very popular, and allows you to provide top-notch service to your members.
The Member Experiences the Feature Right in It's Me 247
Once the feature is activated, members will access this new feature from the "My Documents section in It's Me 247. From "My Documents," members will be able to access the Virtual StrongBox SSO link.
When members click the "Go to Virtual Strongbox" button, they will not feel as if they are entering an external website. Instead, they will log in and upload their documents using the Virtual StrongBox pages accessed from It's Me 247.
Yes! My Credit Union is Ready to Activate Virtual StrongBox in It's Me 247.

First, set up your relationship with Virtual StrongBox

To provide this online safety deposit box as a service to your members, your credit union will first work with Virtual StrongBox. They will train your credit union staff on the product and prepare you for its launch.

Once Virtual Strongbox is implemented, they will also provide you with support. Credit union employees can log directly into your Virtual StrongBox website before it is connected to It's Me 247. That way, your staff can become familiar with the product before it is activated for members.

Your credit union will sign agreements directly with Virtual StrongBox, and they will set your implementation date with you. Use this contact information:

You will also need to fill out and return the CU*Answers Agreement which can be downloaded here:
Activation Agreement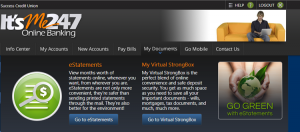 Once they create an account, they will be able to securely and easily upload and archive documents such as wills, trusts, birth certificates, and deeds.
Features List
Premium and Standard Packages Now Available
Standard Package Details
Due to CU*Answers relationship with Virtual StrongBox, your credit union can select from either the Premium package or the Standard package. The file sharing and storage features are available with both packages.
With the Standard package all members receive 10 MB of space which holds approximately one standard loan form and ten receipts.
The Standard package is available at no cost for your credit union.
Premium Package Details
Credit unions who pick the Premium package can purchase a block of space (for example 5 GB) and determine the member space allocation.
Most notable features of the Premium package include revenue sharing generated from member purchases of additional space, and the ability to brand the Virtual StrongBox pages.
Information on pricing for the Premium package is available from Virtual StrongBox.
Have More Questions?
Check out our Frequently Asked Questions section
Case Study