Introduction
Designed for CEOs and senior credit union leaders from all CU*BASE clients, the CU*Answers Leadership Conference provides a unique opportunity to get together with your peers and hear CU*Answers' vision for our partnership during the coming year. We hope you will join us for what always proves to be a fun, energizing and inspiring time together!
We Need a Hero
How are your members achieving the impossible every single day?
Whether it is our employees or our members, how can we inspire people to step up and save our organizations? Sometimes we believe we know better than our members, but we have an army of motivated, passionate, and active owners who show up every day to say "you will not take this away from me!"
Owners are our heroes. These are the people who will save us. These are the members we need to identify, encourage, and most importantly we need to showcase to our cooperative!
Save The Date
The 2018 CU*Answers Leadership Conference & Golf Outing will take place June 26-28, 2018 at J.W. Marriott and DeVos Convention Center in downtown Grand Rapids, Michigan.
Registration and Agenda information coming in late spring.
Tuesday, June 26, 2018

2:15 P.M.-3:15 P.M
Xtend – The Network Effect
JW Marriott – Salon A
3:30 P.M.-4:30 P.M.
Xtend Annual Stockholder Meeting
JW Marriott – Salon A
4:30 P.M.-7:00 P.M.
cuasterisk.com Cocktail Reception
JW Marriott – Pre-function area

Wednesday, June 27, 2018

7:00 A.M.-8:00 A.M.
Vendor Registration & Set-up
DeVos Convention Center
8:00 A.M.-9:00 A.M.
Attendee Registration
DeVos Convention Center
8:00 A.M.-9:00 A.M
Breakfast
DeVos – Ballroom B
9:00 A.M.-4:30 P.M.
Leadership Conference
DeVos – Ballroom A
6:30 P.M-7:00 P.M.
CU*Answers Stockholder Reception
JW Marriott – Pre-function area
7:00 P.M.-8:00 P.M.
CU*Answers Stockholder Dinner
JW Marriott – Salon BCD
8:00 P.M.-9:00 P.M
CU*Answers Stockholder Meeting
JW Marriott – Salon A

Thursday, June 28, 2018

8:30 A.M.
CU*Answers 27th Annual Golf Outing Registration
Saskatoon Golf Club
9:30 A.M.
Shot Gun Start
Saskatoon Golf Club
2:30 P.M
Awards Ceremony & Pig Roast
Saskatoon Golf Club
Video Contest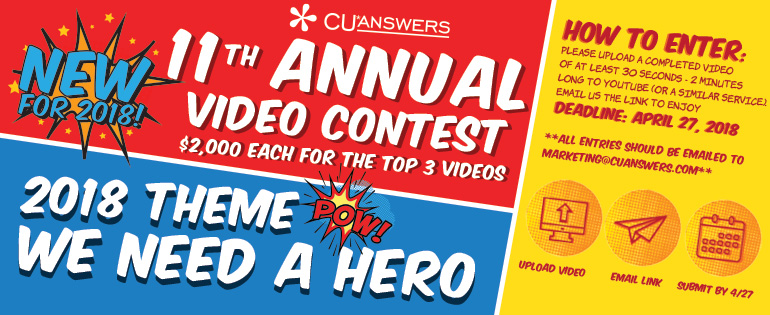 11th Annual Video Contest: $2,000 to each of the top 3 entries for the best complete video!
Please upload a completed video of at least 30 seconds – 2 minutes long to YouTube (or a similar service) and email us the link to enjoy. Deadline: April 27, 2018
*All entries should be emailed to marketing@cuanswers.com