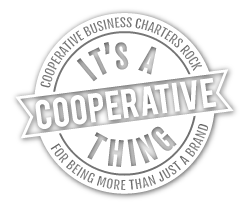 Cooperative Business Charters Rock for Being More Than Just a Brand.
Being a cooperative is as much a way of being as a state of mind. It's an environment that fosters teamwork and collaboration as well as a commitment to self. You are an "owner" of your credit union. You have a direct say on the direction your credit union is going to take. How do you pay your customer-owners, drive for great prices, and take the lead?
Introduction
Designed for CEOs and senior credit union leaders from all CU*BASE clients, the CU*Answers Leadership Conference provides a unique opportunity to get together with your peers and hear CU*Answers' vision for our partnership during the coming year. We hope you will join us for what always proves to be a fun, energizing and inspiring time together!
Presentation Materials and Conference Handouts
Conference Presentations
Special Announcements
Materials Distributed to Participants
2017 Awards
The following awards were presented at this year's Leadership Conference.
Lights, Camera, Action!
At the Leadership Conference we introduced several new videos produced in partnership with Fulvew Productions. Contact them directly to have the videos customized for your Credit Union!
Industry Short
Contest Winners
Building Solutions in a Co-Op Testimonials
Do It Yourself Videos
Additional Videos
Check out the complete CU*Answers video library on CUATV.com.
Photo Gallery