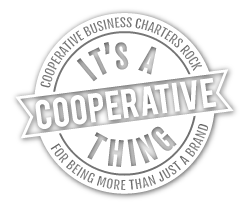 Cooperative Business Charters Rock for Being More Than Just a Brand.
Being a cooperative is as much a way of being as a state of mind. It's an environment that fosters teamwork and collaboration as well as a commitment to self. You are an "owner" of your credit union. You have a direct say on the direction your credit union is going to take. How do you pay your customer-owners, drive for great prices, and take the lead?
Introduction
Designed for CEOs and senior credit union leaders from all CU*BASE clients, the CU*Answers Leadership Conference provides a unique opportunity to get together with your peers and hear CU*Answers' vision for our partnership during the coming year. We hope you will join us for what always proves to be a fun, energizing and inspiring time together!
Save The Date
The 2017 CU*Answers Leadership Conference & Golf Outing will take place June 20-22, 2017 at J.W. Marriott in downtown Grand Rapids, Michigan.
Event Schedule (Tentative)
Tuesday, June 20, 2017
10:00 A.M.-11:30 AM
Xtend Board Meeting
CU*Answers
1:00 P.M.-3:00 P.M.
CU*Answers Board Meeting
JW Marriott
2:15 P.M.-3:15 P.M.
Member Reach: The Direct Impact of Effective Communication
JW Marriott
3:30 P.M.-4:30 P.M.
Xtend Annual Stockholder Meeting
JW Marriott
4:30 P.M.-7:30 P.M.
Xtend Cocktail Reception
JW Marriott
Wednesday, June 21, 2017
7:00 A.M.-8:00 A.M.
Vendor Registration & Set-up
JW Marriott
8:00 A.M.-9:00 A.M.
Attendee Registration & Breakfast
JW Marriott
9:00 A.M.-4:30 P.M.
Leadership Conference
JW Marriott
6:30 P.M.-7:00 P.M.
CU*Answers Stockholder Reception
JW Marriott
7:00 P.M.-8:00 P.M.
CU*Answers Stockholder Dinner
JW Marriott
8:00 P.M.-9:00 P.M.
CU*Answers Stockholder Meeting
JW Marriot
Thursday, June 22, 2017
8:30 A.M.
CU*Answers 26th Annual Golf Outing/Registration
Saskatoon Golf Club
9:30 A.M.
Shot Gun Start
2:30 P.M.
Awards Ceremony & Pig Roast
Accommodations
Video Contest
For information on our 10th Annual Video contest, please visit CU*Answers Marketing.