Information
Designed for CEOs and senior credit union leaders from all CU*BASE clients, our annual Leadership Conference provides a unique opportunity to get together with your peers and hear CU*Answers' vision for our partnership during the coming year.
Special Announcements
This space will be used to organize some of the announcements that were made at the Leadership Conference, to draw attention to upcoming events, pricing changes, or other special notices for you and your staff. (That way you don't have to look at all 182 slides in the presentation to find the critical nuggets you need right now!)
Presentation Materials and Conference Handouts
Conference Presentations
Materials Distributed to Participants
For the Lights, Camera, Action!
Lights, camera, action! At last year's Leadership Conference we introduced two new videos produced in partnership with Fulvew Productions
Watch the videos from the 2012 Leadership Conference.
2012 CUATV Awards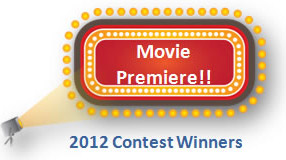 2012 Awards
The following awards were presented at this year's Leadership Conference:
Visit the CU*Answers Awards Page for more information and previous winners.