Take on the new year with enhanced operational reporting and improved trending abilities – impress your board with insights powered by Analytics Booth!
Take advantage of operational trend lines and organizational insights accessible anywhere you have an internet connection.  Never wait for the end of the month again to review your performance – enjoy daily insights at 24-hour intervals, providing you with current information exactly when you need it.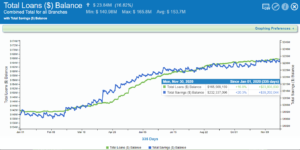 With Analytics Booth you'll have instant access to 12 insightful operational dashboards which showcase enhanced data visualizations, operational trending and so much more.  Never miss a beat with custom alerts that automatically notify you when notable events occur within your credit union.  Make 2022 the year you leverage your data resources to drive results and increase operational GRASP!
Already a subscriber, but could use additional training?  Reach out to us at ai@cuanswers.com to schedule an Analytics Booth training and consulting call with one of our Analysts.