With a Lending Scorecard from Asterisk Intelligence, you can enhance your periodic reporting packets with greater insight into portfolio balance, product participation, credit history and membership demographic profiles.  As a bonus, member populations meeting certain eligibility requirements are identified at the bottom of the Lending Scorecard, providing you data for additional lending opportunities.
This single page report is presented in a clean and concise layout for easy interpretation and decision making.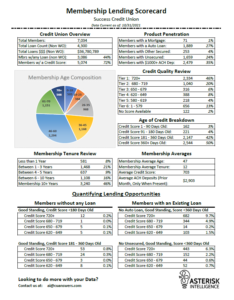 Reports can be produced at the end of each month or mid-month using current membership data.  These reports can be used in conjunction with CU*BASE Tool #1855: Lending Opportunities Dashboard.  Spend less of your time on reporting and data mining and focus more of your time on strategy and execution!
Ready to order your Lending Scorecard?  Click the button below to visit our online store today.
Don't forget: our Asterisk Intelligence Week event is coming up December 6-9.  If you have not yet registered, we invite you to join us for a series of webinars where we will discuss data analytics, data management and data warehousing solutions – these courses will focus on tactical skills instruction, strategy discussion and training.  Click here for more details!