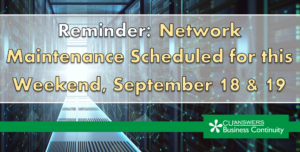 As previously announced, CU*Answers will be performing planned Network Maintenance from 11:00 PM ET on Saturday, September 18th until 6:00 AM ET on Sunday, September 19th.  During that time, teams will be taking steps to upgrade the firmware on all core network switch appliances that connect systems at the primary production center in Kentwood, MI.
During the maintenance window:
CU*BASE will be online on systems at the Yankton, SD (HA) data center.
It's Me 247 OLB will be online on systems at the Grand Rapids, MI secondary data center.

A rollover for It's Me 247 online banking will be conducted before and after the network maintenance period to ensure access by members.  *Some features such as viewing check images and statements may not be available for brief periods.
Other applications, including those listed below, will experience brief interruptions at points during the maintenance window as teams upgrade and reboot each network switch appliance.
CU*Spy
CU*CheckViewer check images
MACO authentication
eDOC applications
Hosted web/mail sites and cuanswers.com
AnswerBook
Indirect Lending and Integration services
At the conclusion of the network maintenance event, teams will redirect It's Me 247 traffic back to the primary data center.  CU*BASE will remain on systems at the Yankton, SD data center until the HA rollback scheduled for Sunday, September 26th.
At the conclusions of the HA rollover and network maintenance events, a gap analysis report will be published and announced.  If you have questions, please click here to contact a member of the Business Continuity Team.