This summer, we will be debuting a completely new look-and-feel and user experience for It's Me 247 desktop and mobile web banking!  This new version of online banking combines both the desktop and mobile versions into a single design that works on every device, whether you are using your phone, tablet or home computer!  This mobile-first design, combined with our new modular infrastructure, will give your credit union new control options over how online banking features are presented to your members.
Changes to Bill Pay for CUs using the Fiserv SSO
The new It's Me 247 online banking makes managing bill pay easier than ever before! We now offer two options to members, providing them convenient access to many commonly used features.
As you know, until now the member experience via a mobile device and a desktop device were very different, especially when it came to bill pay. The new It's Me 247 works the same on all devices, so that meant we had to make some adjustments to how the Fiserv single-sign on (SSO) bill pay features were presented to members, depending on how they were logging in.
In the past, desktop users were pushed automatically to the Fiserv user interface, which is the full-featured bill pay system that includes all Fiserv functionality. Mobile users, however, were given only a handful of integrated bill pay options, such as paying bills and looking at pending payments.  If they wanted to do other things they needed to switch to a desktop computer.
Now all functions are available from every device. This means that:
Desktop users will see new features that used to be displayed only in mobile, and will need to click a new "Use Full Featured Bill Pay" button to access the Fiserv UI they are used to seeing.
Mobile users will see a new button they can use to jump out to the full-featured Fiserv user interface if they wish. Or they can continue using the integrated options they were used to seeing before.
Below are samples of what users will now see when they click "Pay my bills" in the new It's Me 247, from any device: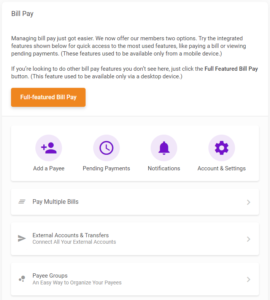 The features at the bottom, such as viewing pending payments, were formerly available only via a mobile device. Desktop users will need to click the new button at the top to proceed to the Fiserv UI, or they can try some of the new tools at the bottom of the screen for quick access to commonly-used functions.
Please note – if your credit union does not offer members the enhanced mobile version of Fiserv bill pay, the following items will appear differently:
The 'Notifications' icon will not be displayed.
The 'Add a Payee' icon will not be displayed.
The 'External Accounts & Transfers' section will not be available.
The 'Payee Groups' section will not be available.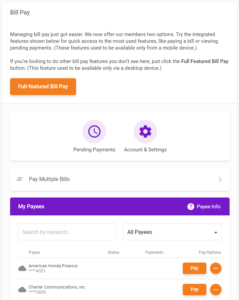 For answers to additional frequently asked questions, click here to view AnswerBook topics.
Read more about the NEW look for It's Me 247 Online Banking in the Kitchen: https://www.cuanswers.com/resources/kitchen/mobile-first/