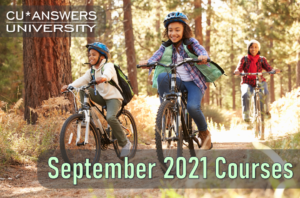 Each month, CU*Answers University hosts FREE web conferences and in-person events that highlight the many products and services our CUSO offers.  Take a look at the courses we have coming up in September!
Thursday, September 2
10:30 AM – 11:30 AM ET
Member Service Trackers, Leads, and Follow-ups
Tuesday, September 7
10:30 AM – 11:30 AM ET
Balancing Made Easy
3:30 PM – 4:30 PM ET
CU*Statements
Tuesday, September 21
9:30 AM – 10:00 AM ET
Preparing for a Cybersecurity Incident Response
3:00 PM – 4:30 PM ET
Advanced General Ledger
4:00 PM – 5:00 PM ET
Participation Loan Servicing: Understanding the Settlement Process
Tuesday, September 28
9:30 AM – 10:30 AM ET
Providing First-Class Customer Service to Members
Don't forget: CU*Answers web conferences are always free to attend!