This summer, we will be debuting a completely new look-and-feel and user experience for It's Me 247 desktop and mobile web banking!  This new version of online banking combines both the desktop and mobile versions into a single design that works on every device, whether you are using your phone, tablet or home computer!  This mobile-first design, combined with our new modular infrastructure, will give your credit union new control options over how online banking features are presented to your members.
Favorite Accounts
With the new online banking, your members have the option to organize and prioritize their accounts.  By setting accounts as their 'favorites' (by clicking the gear icon), members get to choose what appears front and center each time they log in.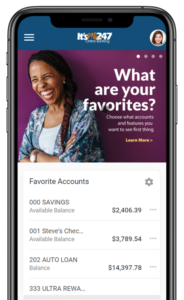 This greater level of individual control means that members won't need to spend extra time clicking through additional tabs or searching for the account information they need.
For answers to additional frequently asked questions, click here to view AnswerBook topics.
Read more about the NEW look for It's Me 247 Online Banking in the Kitchen: https://www.cuanswers.com/resources/kitchen/mobile-first/