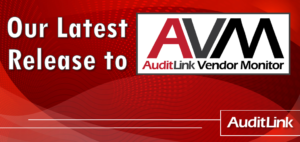 AuditLink is excited to present the AVM_4.1.2 Contract Management Release, arriving to Vendor Management and Contract Management subscribers on Monday, July 12!  This release features:
Support for multiple documents to be uploaded and stored for Contracts.
A new view to see all notification subscriptions for Contract Notifications in one place.
Our most frequent request, the Contract Management dashboard fields have been updated to include relationship manager, contract value, and effective date for better sorting and reporting.
Learn More About the Contract Management Release
Join the AuditLink Vendor Management Team for a post-release review where we will discuss and show you how these new features can be utilized for your vendor management program.  Click the button below and use the drop-down box on the registration page to sign up for your preferred session.
Wednesday, July 14
3:00 PM – 3:30 PM
Thursday, July 15
3:00 PM – 3:30 PM