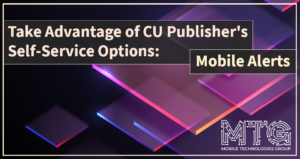 CU*Publisher now offers Mobile Alerts as a Self-Service Option so you can manage all of the important communications for your mobile app users.  Content for Mobile Alerts can contain marketing promos, new branch locations, holiday hours, annual meeting dates and community events, to name a few.
The Mobile Alerts option allows for recurring alerts – you can choose whether these appear each time a user launches the app, or only the first time.  Alerts can also be triggered based on mobile app features, such as when Card Controls are launched.  Alerts can use a selected target audience, such as your Apple iPhone users, and can be created in advance.
Ready to get started?  Click below to order Mobile Alerts for your credit union today!
We will also be hosting an information webinar on Mobile Alerts.  Follow the link below and select your preferred session from the drop-down box on the registration page!
Thursday, July 15th
1:00 PM – 2:00 PM ET
Thursday, August 5th
1:00 PM – 2:00 PM ET
Have questions?  Contact us at irsc@cuanswers.com.