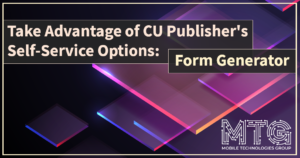 Want to manage your own custom online forms? Now you can by ordering CU*Publisher's Form Generator Product!  No waiting for a Mobile Technologies team member to make your updates or to create a new form.  These forms have great features for logos, images, color, text size and input layouts including checkbox, radio buttons, drop-down lists and uploads.  Make it easy for your members to communicate with you using your website, mobile app and online banking!  Click below to visit our online store and place your order today.
We will also be hosting an information webinar on Form Generator.  Follow the link below and select your preferred session from the drop-down box on the registration page!
Thursday, July 22nd
1:00 PM – 2:00 PM ET
Thursday, August 19th
1:00 PM – 2:00 PM ET
Have questions?  Contact us at irsc@cuanswers.com.