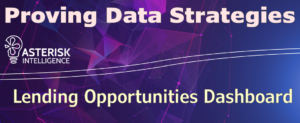 Join the Asterisk Intelligence team as they review Tool #1855, the Lending Opportunities Dashboard available within CU*BASE.  Your data is an asset – hear from our analysts how your operational data can be leveraged for greater insights into your loan portfolio, member demographics, and identified opportunities to take action and drive results.
Learn how to leverage this tool to generate marketing lists, identify member populations primed for lending, as well as enhanced insights into how these members engage with your credit union.  See your operations in a new light, deriving actionable insights from your data doesn't need to be hard or time intensive, join us and see how easy it can be.  Ask, See, Act, and Profit with the help of Asterisk Intelligence!
Thursday, July 8
3:00 PM – 4:00 PM ET
Click here to view summaries of our upcoming Proving Data Strategies sessions.