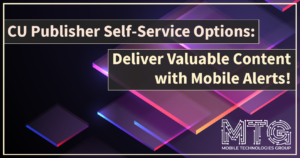 Want to take the next step in becoming an Internet Retailer?  The Mobile Alerts self-service option is available now!
With Mobile Alerts, you can manage who receives valuable content and when they receive it – this can include marketing promos, holiday hours, community events and annual meeting dates.  You can even announce branch hours and the opening of new locations.  Trigger these alerts to reach a specific audience and schedule dates you'd like alerts to appear.  Not yet ready for an alert to be activated?  No problem!  Enable the alert when it is ready to go.
Want to learn more?  Click below to visit our online store today!
We will also be hosting an informational webinar on Mobile Alerts – click the link below to register!
Thursday, August 5th
1:00 PM – 2:00 PM ET
Have questions?  Contact us at irsc@cuanswers.com.