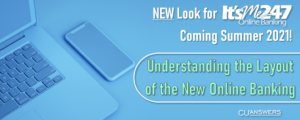 This summer, we will be debuting a completely new look-and-feel and user experience for It's Me 247 desktop and mobile web banking!  This new version of online banking combines both the desktop and mobile versions into a single design that works on every device, whether you are using your phone, tablet or home computer!  This mobile-first design, combined with our new modular infrastructure, will give your credit union new control options over how online banking features are presented to your members.
What Members Will See Upon Login
The current OBC (Online Banking Community) page that your credit union members use to access It's Me 247 online banking will be sunset as part of the transition to the new online baking.  Members will now access a login screen like the one seen below, via your credit union's website.  (Watch for a separate email about how this will affect the existing login widget on your website, if you have one.)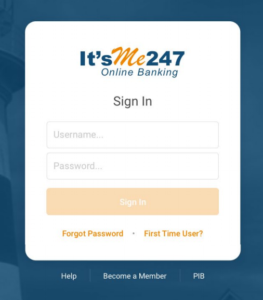 Regardless of whether you log into It's Me 247 online banking via your phone, tablet or home computer, the options available to members and the overall look and feel will appear uniform across all platforms.  Options for 'Help' and 'Become a Member' will be presented as options on the new It's Me 247 login.
(Please note: this new version of It's Me 247 will not be supported on Internet Explorer 11.)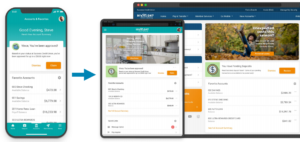 Features like transfers, viewing account history and updating personal information are all located within the modules of the new online banking.  These modules are accessed whenever a member clicks a link within the navigation – anything from menus and buttons to clickable banner ads.
The navigation pulls everything together and your credit union can control how that navigation appears on different devices.  You can change what links are available, adjust what these are called, and place them where you like.
Which Resources will be Moving Away from the OBC?
OBC stories: with the new It's Me 247, CU*Answers will be discontinuing the OBC stories that were posted to online banking each month.
Which Resources Should be Located on your Credit Union's Website?
Cusecure.org: if you would like to include security tips and resources for your members, we will continue to update cusecure.org on a monthly basis.  You can include a link to this free resource on your website to remind members of ways to stay on top of today's security concerns.
Contact Information: any contact information you'd like to have displayed on your credit union's website can be maintained by your staff.
Featured Pages and Products: any pages, products or features you'd like to highlight on your credit union's website can be updated by your staff.
For answers to additional frequently asked questions, click here to view AnswerBook topics.