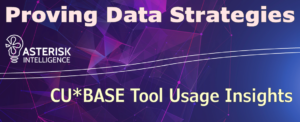 Join the Asterisk Intelligence Team as they review the Tool Usage Analysis Dashboard (#1195) available within CU*BASE.  How effectively are you and your team utilizing CU*BASE and which tools are used the most by your team?  Did you know that the 21.05 CU*BASE release introduced 10 new features within CU*BASE; are your team members aware of these new features and have they started using them within their daily operations?
The tool usage analysis dashboard can answer each of these questions and more.  Hear from the Asterisk Intelligence team how this tool can be used to quantify CU*BASE utilization, identify tools which have gone unnoticed by your team, and assist with authority management.  Your data is an asset, we'll help you leverage it.  Ask, See, Act, and Profit with the help of Asterisk Intelligence!
Thursday, June 24
3:00 PM – 4:00 PM ET
Click here to view summaries of our upcoming Proving Data Strategies sessions.