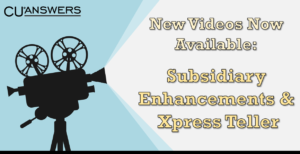 Two new videos are now available from CU*Answers!  If you missed our recent webinar sessions for Subsidiary Enhancements or Xpress Teller, you can get caught up with these recorded versions!
Included in the recent 21.05 release of CU*BASE are enhancements that make the subsidiary process easier than ever before!  Users now have access to a new central dashboard that lists each of the subsidiary items to add, edit, close, delete and adjust – all gathered in one convenient location!  Click below to view the video and learn more about these subsidiary enhancements.
View the Video for Subsidiary Enhancements
Also included in the 21.05 release of CU*BASE is Xpress Teller!  If you'd like to learn how to navigate screens, explore workflow controls and witness a hands-on demonstration, click below to view the recording for Xpress Teller.