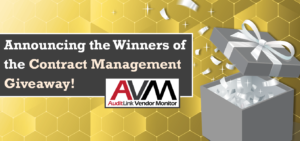 At this year's Leadership Conference, AuditLink hosted a drawing for eight lucky credit unions to win a one-year term of Contract Management on the new AVM site.  We are pleased to announce the winners of this drawing!
Dan Raisic & Kim Kniola of First Trust Credit Union
Rob Bendele of Gratiot Community Credit Union
Bryce Carden & Jim Falls of Members Source Credit Union
Mary Ann Pusateri of Partnership Financial Credit Union
Liza Edinger of RIPCO Credit Union
Rick Preble of RVA Financial Federal Credit Union
Lisa Rowley of TruChoice Credit Union
Jeanene Smith of West Michigan Credit Union
If your credit union is looking for help with vendor management and/or contract management, AuditLink can help!  Your credit union will have access to all annual due diligence, reviews, comments and contracts for your vendor relationships via the AVM site.  All vendor due diligence and contracts will be centrally located, requiring less time and work on your credit union's part.
Visit our online store for more information or to place your order today!