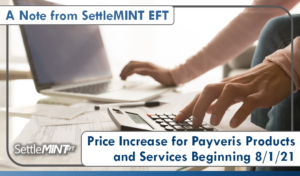 Attention Payveris Bill Pay Credit Unions
We have recently been notified that, effective August 1st, 2021, Payveris will be implementing a 3% increase on all of their products and services.  Linked here is a document which details the updated pricing for both Online and Self-Processing credit unions.  These price increases will be reflected starting with your September 2021 invoice.
If you have any questions, please reach out to SettleMINT EFT.