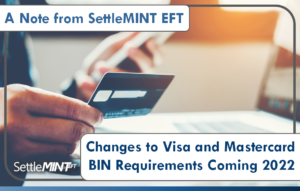 Beginning April 2022, CU*BASE BIN processing will be changing to accommodate a mandate that expands BINs from six to eight digits; this change is being mandated due to a growth in electronic payments.
We are currently reviewing our processing procedures to determine what will change on CU*BASE.  To begin, we have created a report for each credit union which lists all of your BINs, up to the 8th digit, that have active/warm status cards in the ATM/debit or credit card portfolio (this could include suspended BINs if cards still exist within them).  This report, named "8 Digit BIN Report" (UT8BINR_B) has been placed in your HOLDxx outq.
We encourage you to review the announcement for additional details on this change, including information on what you can do to prepare as well as links to additional resources. If you have any questions, please reach out to SettleMINT EFT.